At Edu-Futuro, we work hard to bring quality programming to the community, we take care of each other as a family, we value and respect each other, and we enjoy each other's company while we know our clients are getting services from a dedicated team.
HOW TO APPLY
To apply for an open position, please email [email]careers@edu-futuro.org[email] with your resume and cover letter, unless otherwise specified in the position description.
Edu-Futuro does not discriminate on the basis of race, color, religion (creed), gender, age, national origin (ancestry), disability, marital status, sexual orientation, or military status in any of its activities or operations. These activities include, but are not limited to, hiring and firing of staff, selection of volunteers, selection of vendors, and provision of services.
Edu-Futuro is a drug-free workplace. The unlawful manufacture, sale, distribution, dispensation, possession, or use of a controlled substance or marijuana is prohibited, and action will be taken against employees violating such prohibition.
Edu-Futuro is always looking for passionate individuals, committed to serving the immigrant community.
Our open positions are listed below.
AmeriCorps is the Corporation for National and Community Service in the United States. With a network of service programs, AmeriCorps offers the opportunity for individuals of all ages and backgrounds to serve and meet community needs. Each year, 75,000 people of all ages and backgrounds participate in a year of service at a placement site. AmeriCorps members address the most critical problems in the areas of education, economic opportunity, veteran and military family services, health, the environment, and disaster services. In exchange for a specified term of service, AmeriCorps members earn a living allowance as well as an educational award to pay back qualified student loans or to finance college, graduate school or vocational training.  To learn more about this federal program, you can visit: CNS.gov
Edu-Futuro has been a host site for AmeriCorps members since 2009, through grants managed by the state of Virginia (VirginiaService.virginia.gov) and has worked in different partnerships to bring AmeriCorps members to serve our Northern Virginia community. Currently, Edu-Futuro is partnering with We Are CASA Virginia, in a project called Moving Forward!
Members of the Moving Forward! AmeriCorps program serve at Edu-Futuro by facilitating leadership and college readiness workshops, and mentoring middle and high school students, as well as providing meaningful programs for their parents. Edu-Futuro builds partnerships with local school systems and other non-profit organizations to provide college readiness skills and career preparation to the immigrant families in our community. Since 2011, the program has empowered over 1500 K-12 students and parents from immigrant families in leadership training, college preparation, Spanish language instruction, and Robotics.
Edu-Futuro has engaged more than 20 members who combined have earned more than $100,000 in Education Awards. More than 70% of our AmeriCorps members are currently enrolled in post-secondary education or employed in full-time careers earning an average annual salary of $50,000 or more! You can read what some of our past and current AmeriCorps members have to say about their experience with Edu-Futuro.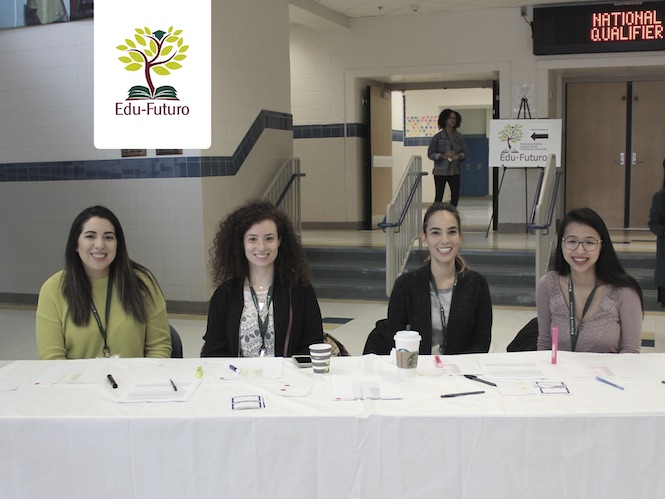 Edu-Futuro offers an array of opportunities to volunteer in its programs. If you have a passion for giving back to the community, and you are interested in working with children of all ages, you might find a volunteer opportunity that attracts you in our organization.
Please note that all invitations to volunteer with Edu-Futuro are contingent upon clear results of a search of state and national sex offender registries. An applicant appearing on any such registry will not be offered a volunteer position.
Additionally, those applying to serve as mentors in Fairfax County (i.e., at the Fairfax, Falls Church, or Springfield sites) must undergo an FCPS-administered background check, which includes fingerprinting at FCPS Gatehouse Administration Center I (8115 Gatehouse Road, Falls Church, VA 22042). More information about the FCPS background check, including required forms, will be sent upon completion of the mentor application.
Your Donation Will Help Those In Need