At Edu-Futuro, we work hard to bring quality programming to the community, we take care of each other as a family, we value and respect each other, and we enjoy each other's company while we know our clients are getting services from a dedicated team...
HOW TO APPLY
To apply for an open position, please email careers@edu-futuro.org with your resume and cover letter, unless otherwise specified in the position description.
Edu-Futuro does not discriminate on the basis of race, color, religion (creed), gender, age, national origin (ancestry), disability, marital status, sexual orientation, or military status in any of its activities or operations. These activities include, but are not limited to, hiring and firing of staff, selection of volunteers, selection of vendors, and provision of services.
Edu-Futuro is a drug-free workplace. The unlawful manufacture, sale, distribution, dispensation, possession, or use of a controlled substance or marijuana is prohibited, and action will be taken against employees violating such prohibition.
INTERNSHIP OPPORTUNITIES:
Edu-Futuro is always looking for passionate individuals, committed to serving the immigrant community.
Our open positions are listed below.
AmeriCorp Positions 2023-2024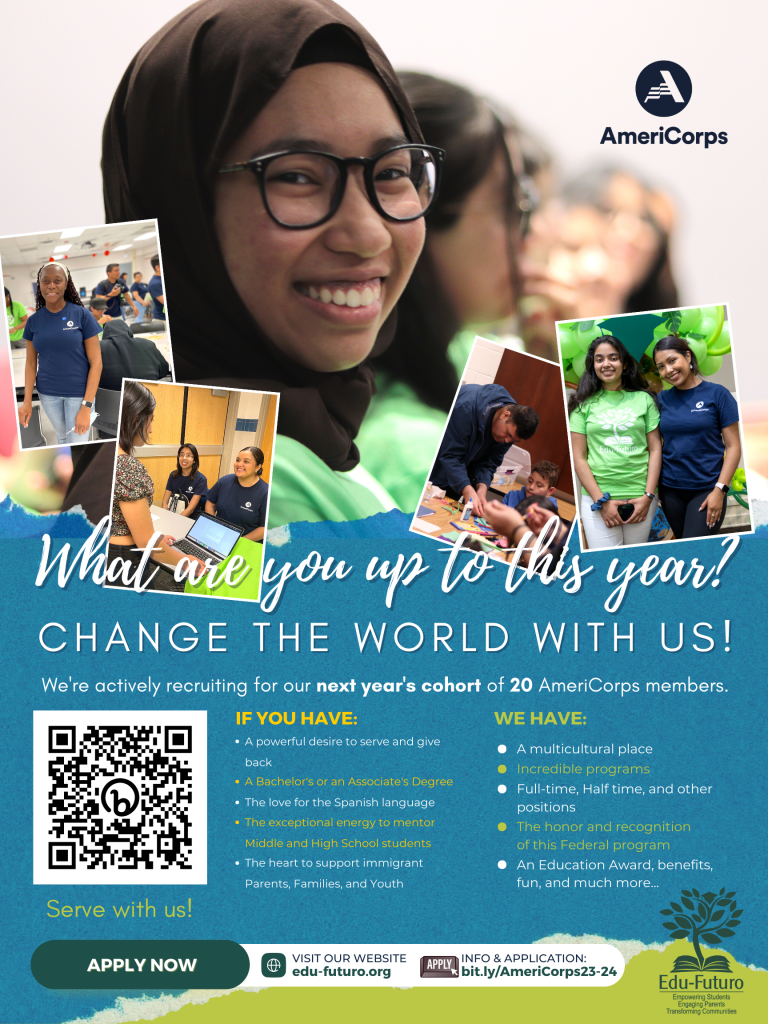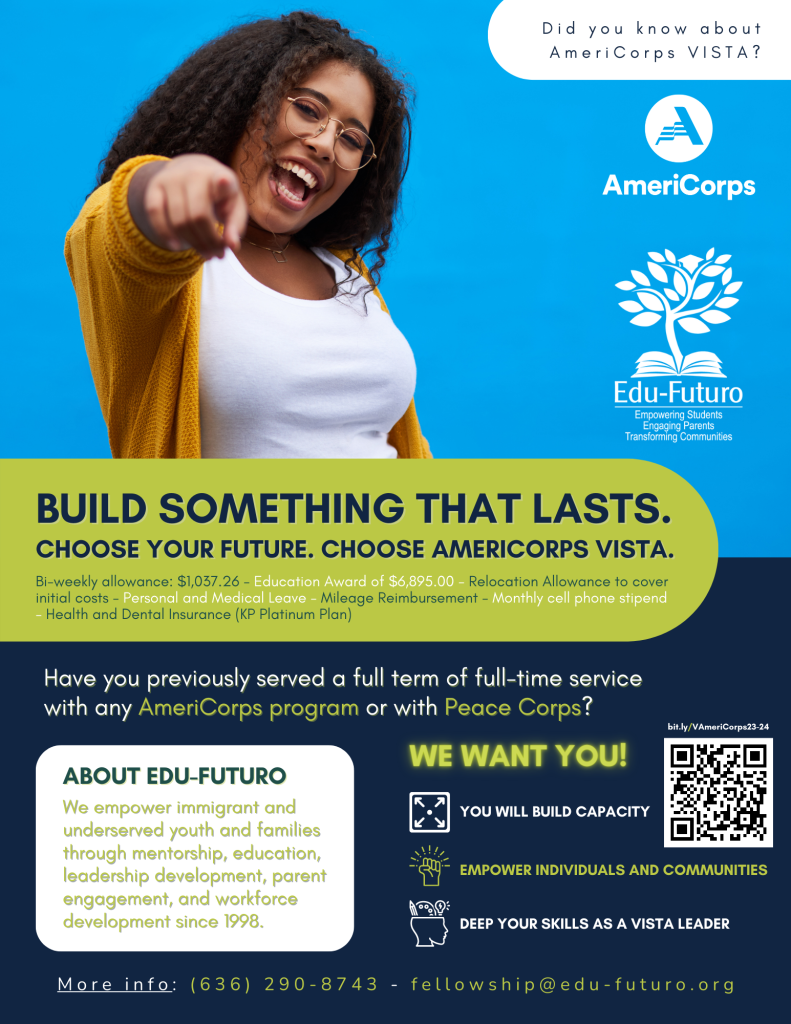 AmeriCorps operates through the Virginia Office on Volunteerism and Community Service (OCVS) and the Governor-appointed Advisory Board on Service and Volunteerism States. With a network of service programs, AmeriCorps offers the opportunity for individuals of all ages and backgrounds to serve and meet community needs. Each year, 270,000 individuals enroll to serve directly with organizations to tackle our nation's most pressing challenges. AmeriCorps members address the most critical problems in the areas of education, economic opportunity, veteran and military family services, health, the environment, and disaster services. In exchange for a specified term of service, AmeriCorps members earn a living allowance as well as an educational award to pay back qualified student loans or to finance college, graduate school, or vocational training. To learn more about this federal program, you can visit this website.
Edu-Futuro has been a host site for AmeriCorps members since 2009, through grants managed by the state of Virginia, and has worked in different partnerships to bring AmeriCorps members to serve our Northern Virginia community.
Currently, Edu-Futuro was chosen as one of only 12 lead agencies in the Commonwealth of Virginia for the national AmeriCorps community service program. This major accomplishment represents a landmark moment in the development of Edu-Futuro, which has been an AmeriCorps sub-grantee for more than a decade. The three-year agreement with the AmeriCorps State and Territory The commission will allow Edu-Futuro to increase the number of AmeriCorps members on our staff, from 5 to 19.
Members of the Edu-Futuro AmeriCorps program serve at Edu-Futuro by facilitating leadership and college readiness workshops, and mentoring middle and high school students, as well as providing meaningful programs for their parents. Edu-Futuro builds partnerships with local school systems and other non-profit organizations to provide college readiness skills and career preparation to the immigrant families in our community. Since 2011, the program has empowered over 2,100 K-12 students and parents from immigrant families in leadership training, college preparation, STEM activities, and parent engagement services.
You can see what some of our past and current AmeriCorps members have to say about their experience with Edu-Futuro here.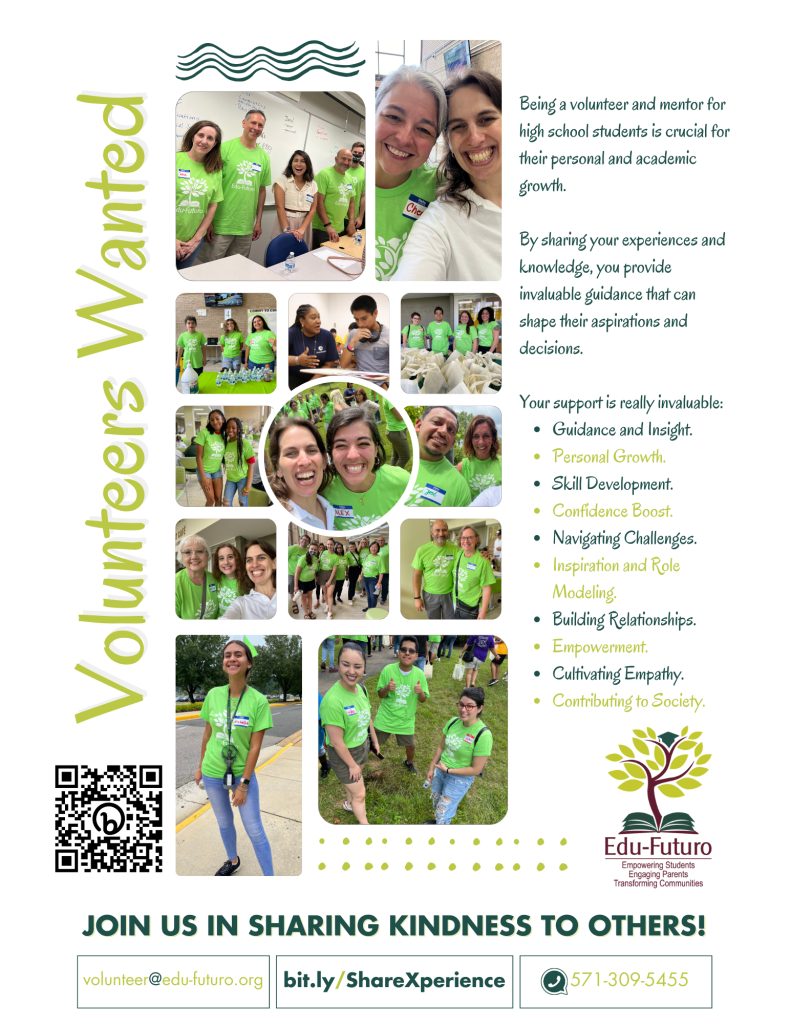 Edu-Futuro offers an array of opportunities to volunteer in its programs. If you have a passion for giving back to the community, and you are interested in working with children of all ages, you might find a volunteer opportunity that attracts you to our organization.
As a volunteer at Edu-Futuro, you will have the opportunity to provide service in line with our organization's vision: Realizing the potential of immigrant youth and their families. Explore volunteer opportunities within our Youth Programs and Parent Empowerment Services -- even donate your professional skills! Our Volunteer Program offers opportunities with a variety of time commitments throughout the year, including one-time opportunities as Guest Speakers and Scholarship Judges. To find out more about our upcoming opportunities, please email us at volunteer@edu-futuro.org.
We value your time, effort, talent, and involvement, and celebrate your invaluable service to the community. Last year Edu-Futuro collaborated with over 275 Volunteers, who completed a total of 3,130 hours of service.
We are pleased to announce our Active Opportunities on the VolunteerMatch website as well, but if you're ready to serve please click here and fill in the form to start the process. We hope to see you soon! Thank you very much.
FAQ's
Do I need to submit a resume?
Yes, if you have a resume you should upload it alongside your application. If you don't have a resume, you may provide some information about your most recent experience.
Do I need a background check?
All volunteers undergo screening through the National Sex Offender Public Website, which they consent to as a part of the volunteer application. Additional background check requirements vary by site and program in accordance with guidelines set by local school districts.
Will I be provided training?
All volunteers are oriented by the volunteer coordinator and trained by the supervisor of their program. Training will occur virtually for the remainder of the school year.
What is a long-term volunteer opportunity?
This is when you will volunteer consistently (twice a week) for a 6 week period or longer.
What are the short-term opportunities?
Many of our programs occur within the time span of a few weeks, subscribe to our newsletter to find out more about when these programs occur.
Can I have my volunteer hours verified for school, work, or another program?
Yes, the Volunteer Coordinator will verify your hours. You must disclose that you are seeking verification prior to the start of your service.
My schedule is unpredictable but would still like to volunteer, how can I support Edu-Futuro?
There are administrative opportunities (such as judging speeches and essays, data input, etc.) Please contact volunteer@edu-futuro.org for other opportunities.
Can I donate my professional time as a volunteer?
Yes! Our professional volunteers provide crucial support to Edu-Futuro and allow us to expand our capabilities as an organization. Your expertise is highly valuable to us.
What if I cannot make it to one session of a program, will I still be able to participate?
Our programs are designed with volunteer participation in mind. If you know you will be absent for part of your program, inform your supervisor or the volunteer coordinator as early as possible.
Do I have to be over 18 to be a volunteer?
You do not have to be 18 to volunteer. However, your opportunities may be limited to certain programs.
Your Donation Will Help Those In Need