Edu-Futuro launched its bilingual Workforce Development Services (WDS) program in 2016 to meet the needs of underserved Latino and immigrant Northern Virginians who were seeking to leave low-wage service jobs and improve the economic well-being of their families. Since then, we have expanded our services to include vital digital skills training needed for the current job market. In large part due to the effects of the COVID-19 pandemic, Edu-Futuro's current curriculum focuses on addressing the language and technical obstacles immigrant parents face in an increasingly virtual world.
Edu-Futuro's WDS program includes Tech for Parents, an eight-week curriculum to help Latino and immigrant adults gain the ability and confidence to:
1) Digital literacy workshops
2) Resume and cover letter;
3) Search and apply for jobs online and in person;
4) Acquire the English-language skills to apply for and maintain employment; and
5) Financial workshops.
We are enhancing the WDS program with support for beneficiaries to earn their General Education Diploma (GED) as the equivalent of a high school diploma. We plan to launch this program in the Spring of 2023. More information to come.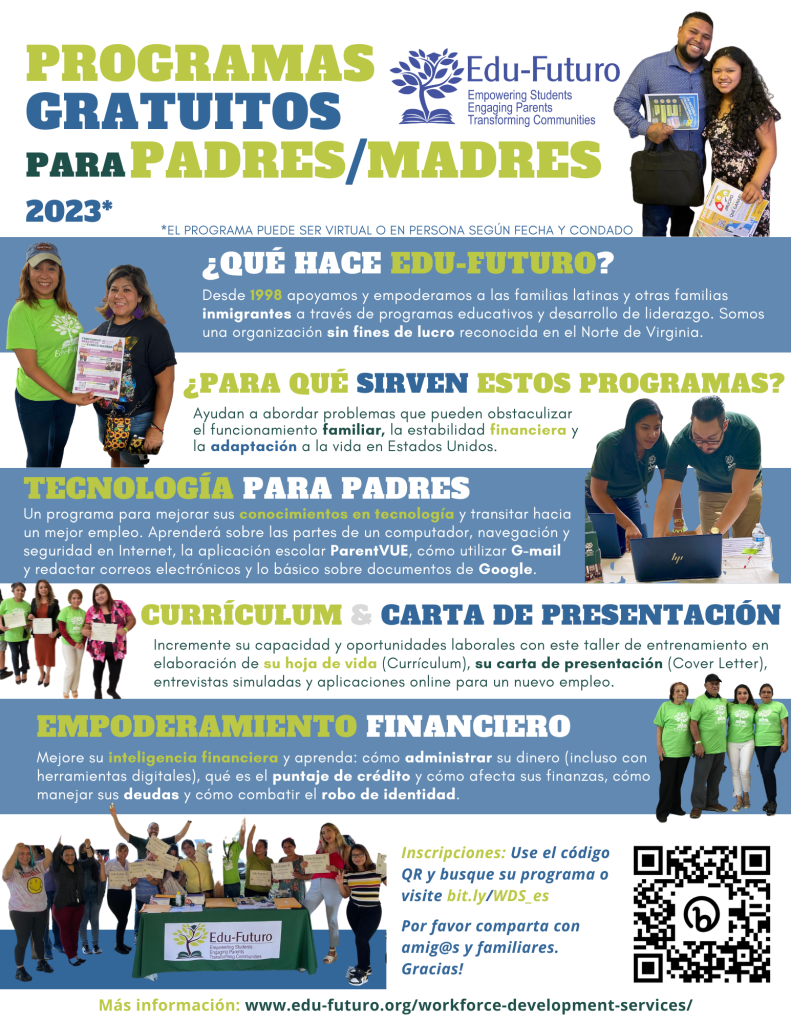 Through a partnership with UnidosUS and Change Machine, Edu-Futuro offers general information and workshops on various financial topics to parents and students, and provides referrals to free one-on-one financial coaching in both Spanish and English. Coaches help clients address issues of financial insecurity and provide guidance on how to achieve goals.
Workshop topics include among others:
Identifying financial goals
Household budgeting and tracking expenses
Paying for college
Pulling and reviewing credit reports
Edu-Futuro invites you to join our 5 workshops addressing the following topics:
Budgeting
Credit
Debit
Taxes
Finances in Difficult Times: Protecting your Identity
5 Sessions Virtual Program, in Spanish, to learn:
Computer Basics

How to access resources on the Internet

Proficient use of the email

How to communicate with the school

How to monitor your child's attendance & class performance through ParentVUE
FAQ's
Do I need a laptop to attend the workshop?
You can attend the workshop from your cell phone, tablet, laptop, or personal computer.
How many sessions does the workshop have?
The workshop consists of a total of 5 sessions.
What is the workshop schedule?
It takes place every Wednesday from 4:30 to 6:30 pm.
What is the workshop all about?
Tech for Parents focuses on basic computer knowledge, such as computer parts, basic concepts about the internet, online security, useful applications, Google Docs, Email, etc.
Do you deliver certificates at the end of the workshop?
Edu-Futuro will send a certificate of completion to those who attend classes.
Resume & Cover Letter (R&CL)
5 Sessions Virtual Program to learn:
Resume
Cover Letter
Where are job opportunities advertised?
Interviews & References
Review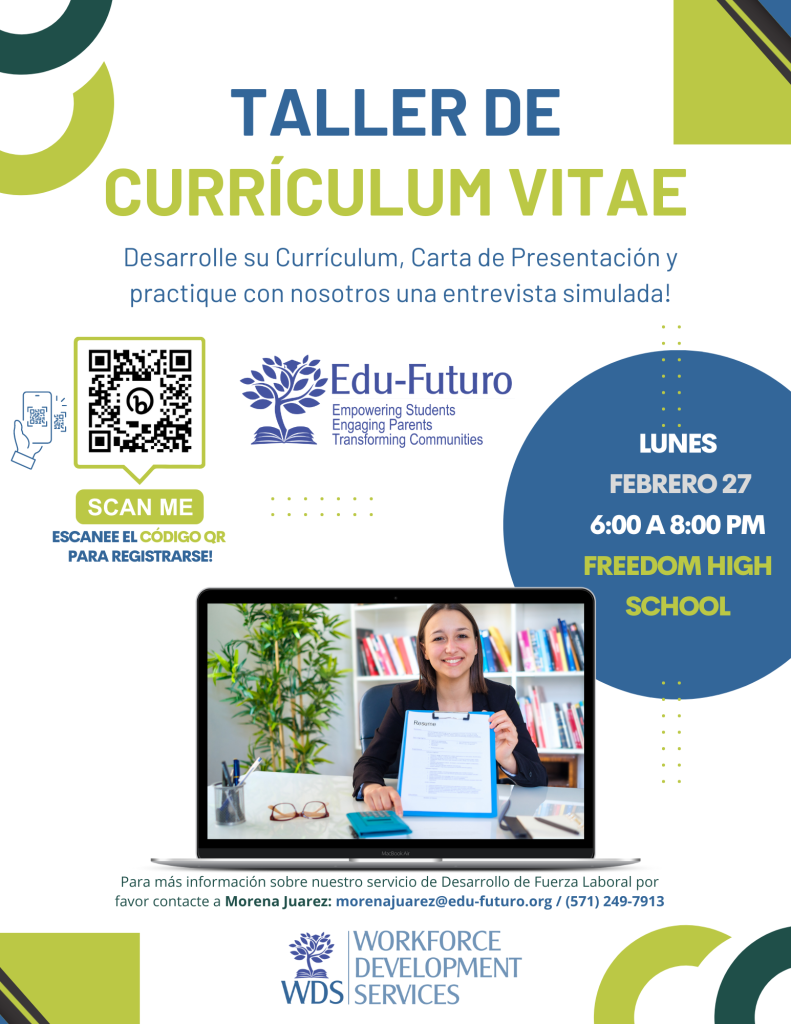 Edu-Futuro
You Can Be A Part Of Our Team
We are always looking to expand our team of volunteers. We search out dedicated people that want to make an impact in our community and the world.. If you are interested in volunteering, click the Volunteer Now button below.
Your Donation Will Help Those In Need