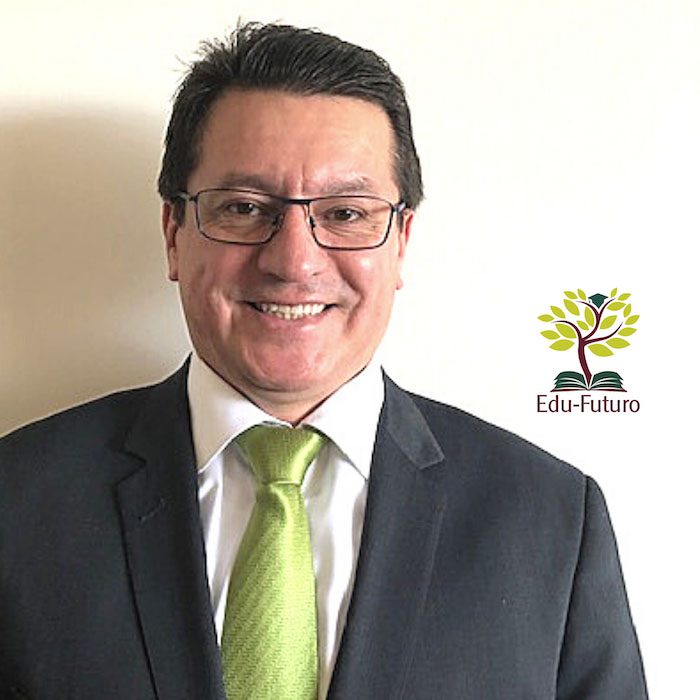 Jorge E. Figueredo, MPP
Mr. Figueredo has extensive experience leading organizations and programs committed to providing social services, advancing social justice, and advocating on behalf of immigrant communities. Mr. Figueredo was the Executive Director of the Hispanic Committee of Virginia, a local non-profit, which he transformed into a regional multi-million dollar organization. He conceptualized and founded Security One Bank (today known as John Marshall Bank) with 13 other members. He was also the director of the ACLU of Virginia's Racial Justice and Immigrant Rights Project. Most recently, he worked for The Centech Group, Inc., and the National Federal Contractors Association (NaFCA). He is a native of Colombia, received his bachelor's degree from Pontificia Universidad Javeriana in Bogota, Colombia, and his master's degree in public policy from the University of Maryland at College Park. He has two young daughters who attend Arlington Public Schools. Mr. Figueredo is excited to focus on providing educational opportunities for our immigrant youth, which in his experience as an executive, advocate, and an immigrant himself, is critical for having a long-term impact in our communities.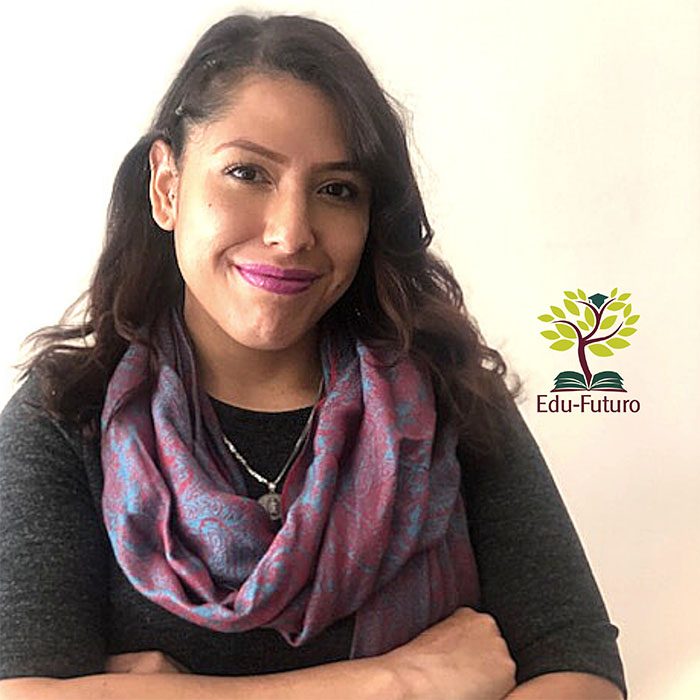 Natalia Montelongo, M.Ed., MPA
Natalia Montelongo is a first-generation Mexican-American from Oklahoma. She received her M.Ed. in Educational Studies from the University of Oklahoma in Norman, OK in 2016, and as of May 2020, she was able to obtain her Masters of Public Administration degree from American University. Before arriving in Washington D.C., she worked as a Program Coordinator for Aspiring Americans, a program focused on providing financial aid assistance, mentorship, and academic counseling to undocumented students in the Oklahoma City metro area. Most recently, she worked for the U.S. Committee for Refugees and Immigrants as a Program Officer with the mission of providing resources and tools to children and families who were in need of legal protective services, access to education, and help adapting to their new country. She hopes to continue to equip herself with more tools to continue to fulfill her mission and passions of equity, empowerment, engagement, and education with Edu-Futuro. From 2017 to 2019, Natalia served as Chair of the Edu-Futuro Associate Council.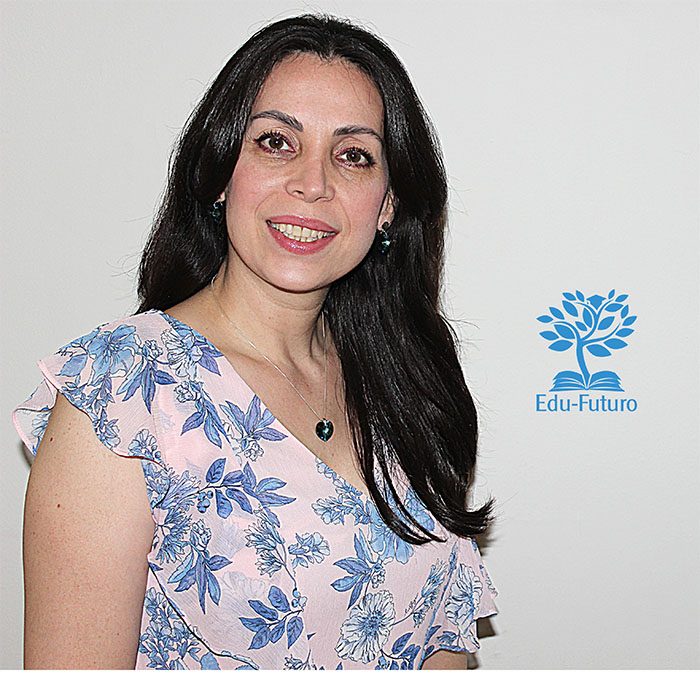 Victoria Mejía, MA
Youth Programs Coordinator
With almost 30 years combined experience as Chief of Special Projects for an international conglomerate, and competence in education, Victoria has skills relating with individuals of all ages and backgrounds as well as building relationships with communities and individuals from all walks of life. Victoria has the ability to understand key concepts in a wide range of subject areas and to develop tools and instructional procedures to explain material to individuals from diverse backgrounds and educational levels. She has developed a keen sense of empathy and active listening skills, which in turn allow her to impact and influence those whom she works with. Victoria has a Bachelor of Arts in Communication and Research. She completed a Master's Degree in Peace Studies with the highest distinction Summa Cum Laude from the University of Salerno, Italy. She has a Master's Degree in Education, Didactics, and Pedagogy as well.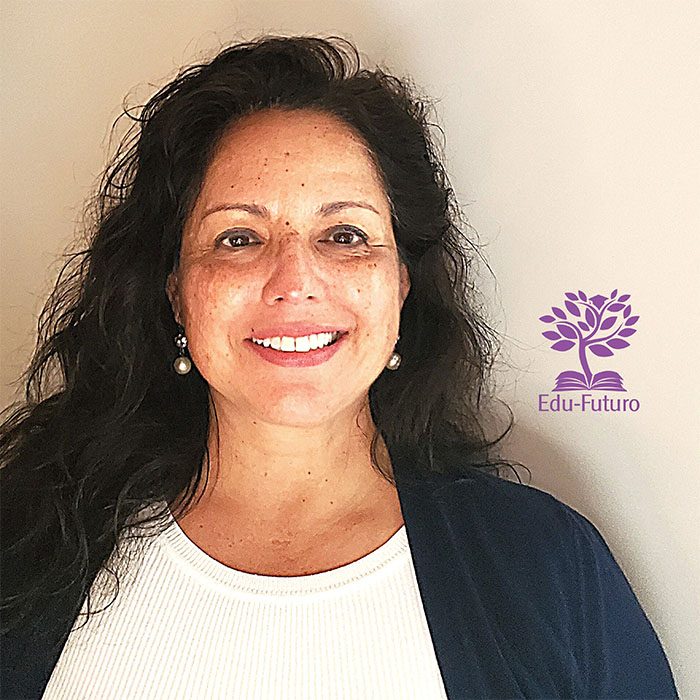 Nora Lopez
Adult Programs Coordinator
Nora is a second-generation Mexican American from Texas. She has a Bachelor of Science degree in Social Psychology with Park University. Nora comes from Computer CORE, where she worked as Director of Programs and Services, servicing low income adults with the basics in life skills and computer skills to prepare for the workforce. She was responsible for leading and directing the organization in all operational functions including outreach strategies, for expanding awareness of services to Northern Virginia residents, community partners, foundations, businesses, and government agencies. Nora also has an extensive case management background working with families in APAH, the HUD funded family self-sufficiency, (FSS) programs in Northern Virginia and Montgomery County, MD. She served as the National Association of Housing and Redevelopment Officials, (NAHRO), FSS Capitol Hill Advocacy Day, Chairperson. Also, as the FSS Regional Roundtable Group Chairperson. Current Chair, SEEC, (Shirlington Employment and Education Center) Board of Directors, member since 2018. Nora is a U.S. Army veteran with a professional lifetime of service to others. She is looking forward to continuing her work in empowering others to find their full potential and to growing and learning more from others.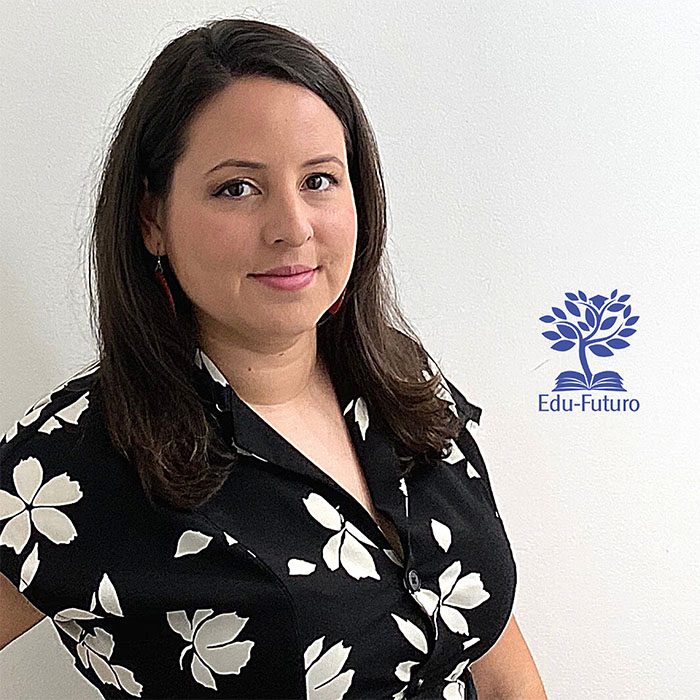 Johana Lopez, M.Ed.
Saturday Spanish School Coordinator & Facilitator
Johana López was born and raised in Cali, Colombia and moved to New York City at the age of 12. Johana serves as the Saturday Spanish Classes Coordinator and Administration Specialist at Edu-Futuro. To this organization, she brings over seven years of classroom experience as a literacy instructor for adults and dual-language teacher for elementary students. In addition, she brings over 5 years of administrative experience as Assistant Registrar/Interim Registrar at Carlos Rosario International PCS and as Experiential Education Advisor at University of Maryland. Johana is a certified K-6 New York State teacher with a Bachelor of Arts in Cultural Anthropology and Elementary Education from CUNY Queens College & a certified reading specialist with a Master of Education in Curriculum and Instruction from the University of Maryland. Johana is passionate about helping the immigrant community navigate life in the United States successfully.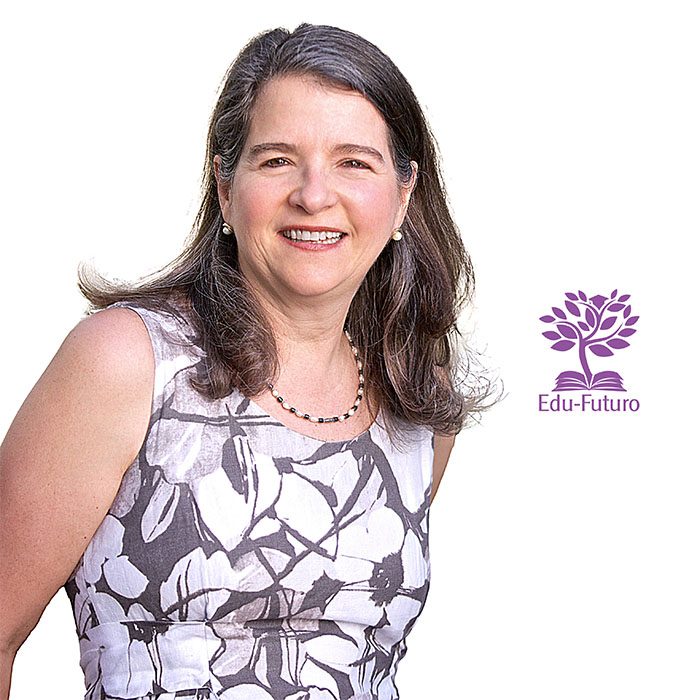 Maria del Carmen Mateus
Parent Support Specialist II
Born and raised in Ecuador, Maria obtained her bachelor's degree from the University of Loja where she majored in Middle School Education with a thesis focused on Diagnostics of the Intellectual Capacity of Elementary School Students in Quito, Ecuador. In 2000, she moved to the U.S. with her husband and two children where they made Fairfax their home. Shortly after, Maria began her career with Fairfax County Public Schools. For the past 14 years with FCPS, she served as an assistant teacher for children with special needs, speaker and presenter for Drug and Alcohol Prevention Parent Workshops, and as Parent Liaison for elementary and high schools. Maria has always found passion working with the immigrant community and has made it her mission to lead and engage families to successfully navigate the educational system. She joined Edu-Futuro in September 2016.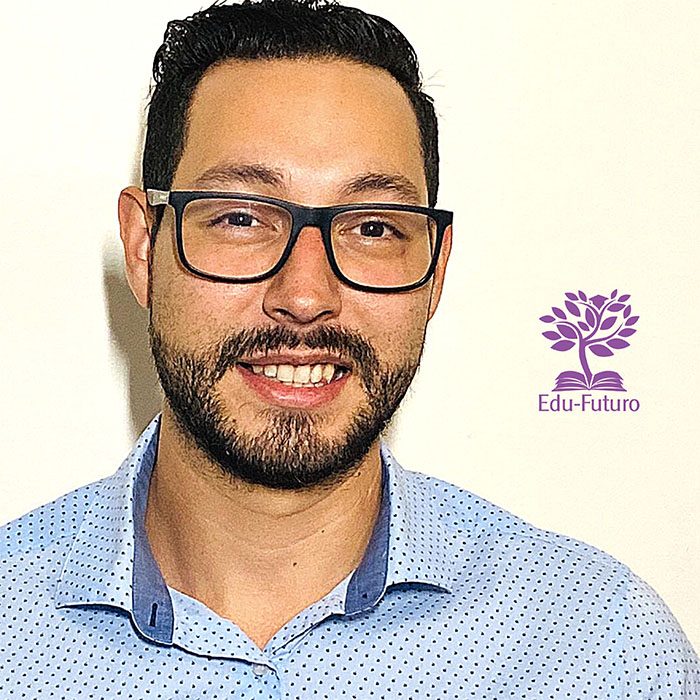 Alexis Rivas
Workforce Development Specialist
Alexis was born and raised in Caracas, Venezuela, and moved to the United States in 2016 along with his brother. Alexis has 14 years of experience in the IT field. He was working at the Carlos Rosario School as a paraeducator of the IT Fundamentals Course helping people to improve their computer skills, find a better job in the technology field, and succeed in the IT Fundamentals certification test. He is now part of our team as a Workforce Development Specialist and also brings his IT knowledge to the organization to improve our hard work every day.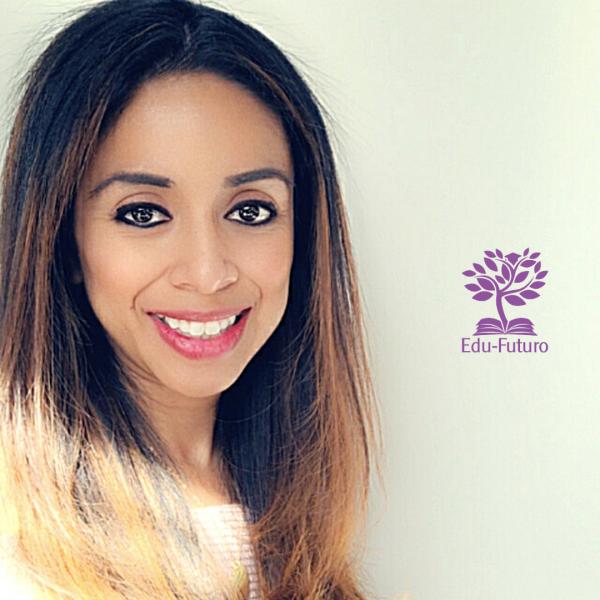 Katherine Garcia
Parent Support Specialist
Katherine has extensive experience in Public Health, mainly in areas of Population Health among Latino demographics. Having a passion for health determinants among communities, she has broadened her experience in areas of Federal Government, Military, Private Organizations, and Public Health. Her priorities for Edu-Futuro are to assist communities and continue to educate herself and empower those whom she works with. Katherine is a graduate of Marymount University where she obtained her MS degree in Health Promotion Management and a BS in Psychology from George Mason University.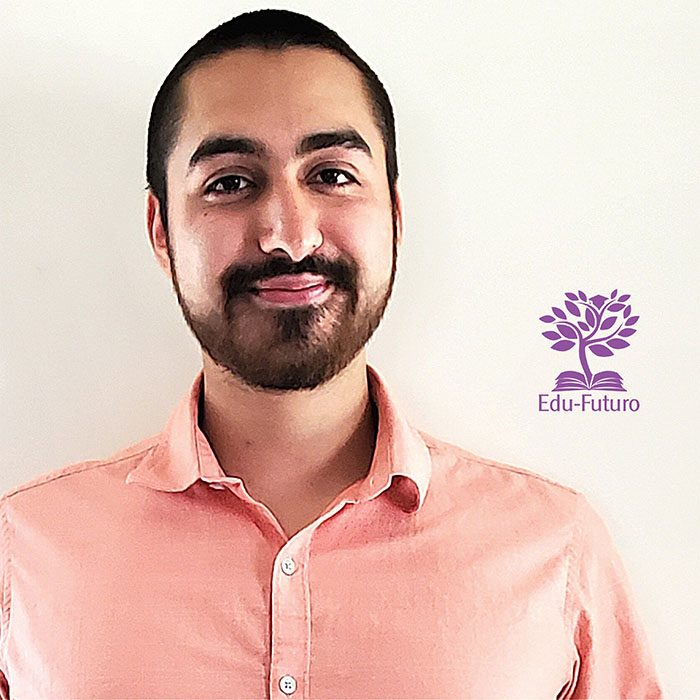 Pablo Barrios, M.Ed.
Parent Support Specialist
Pablo is a first-generation immigrant from Guatemala, whose first language is Spanish, and loves to use his experience to help those who are most in need. He has a double bachelor's degree in Psychology Concentration in Health and Conflict Analysis and Resolution with a secondary focus in Interpersonal Dynamics. Pablo is currently earning his M.Ed. in Counseling and Development with a focus in School Counseling at GMU. His work with immigrants has helped many families with career development, personal empowerment, and long-term professional goals. He has been an FCPS interpreter for 4 years, and he has extensive experience working closely with counselors, psychologists, and social workers as a parent liaison, serving undocumented youth and families as well. Pablo also served as an Education Services Coordinator and data specialist for Catholic Charities Hogar Immigrant Services, creating career development programs, social and crisis interventions, and managed adult student goal attainment through the VDOE. He has over 8 years of youth ministry experience as a volunteer and leader in Northern Virginia. He is passionate about helping multicultural youth and families, connecting them with social and human services, and helping them bridge gaps to attain personal success.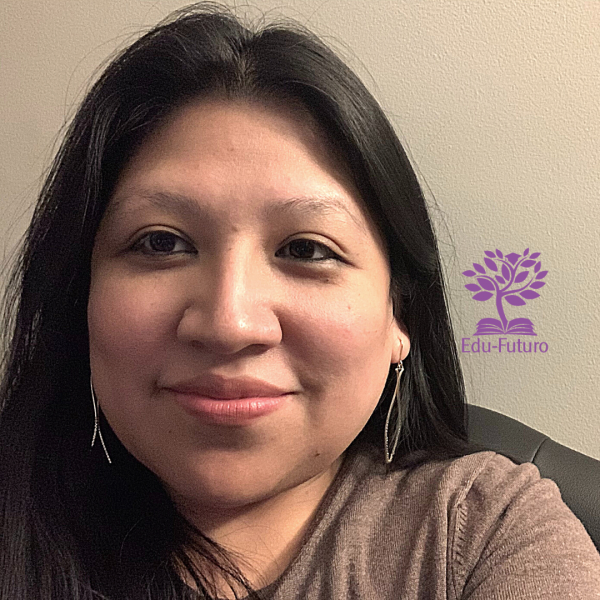 Monica Valencia, M.S.W.
Parent Support Specialist
Monica received her Master's degree in Social Work from the University of Maryland Baltimore School of Social Work in 2019. Her past experiences include case management, counseling, and job coaching. She has worked with low-income families and helped families link to various resources needed. Monica has also provided individual and family counseling to at-risk youth and their families using the Family Centered Treatment Model. She has worked with transition-aged youth that was diagnosed with a mental health disorder and provided vocational services. Monica appreciates working with individuals and giving them the tools needed so that they can be empowered and become self-sufficient. She is grateful for this experience at Edu-Futuro, an opportunity to work with the immigrant and Latino Community.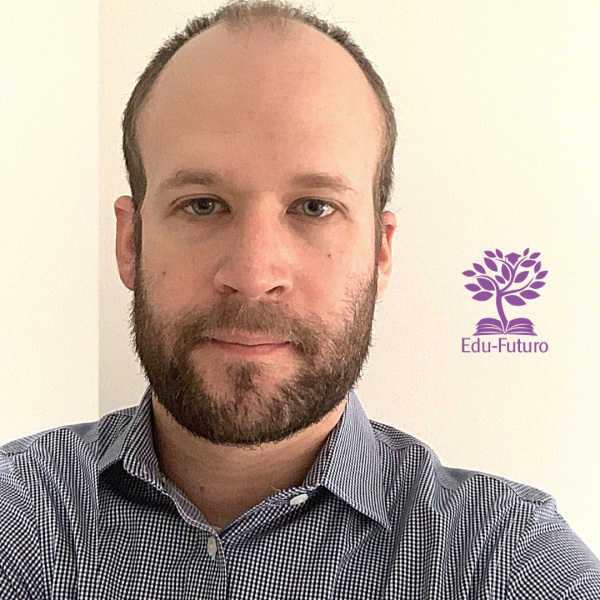 Nikola Radovic
Parent Support Specialist
Nikola is originally from Chile and grew up in various countries in South America. He graduated with a Journalism and Communications Degree from the University of Vina del Mar, Chile. He has extensive experience in the nonprofit field, specifically in affordable housing and immigrant rights. He is a huge soccer fan, and he's very passionate about helping others and working with immigrant communities. Nikola recently moved back from Denver, Colorado to be closer to his family.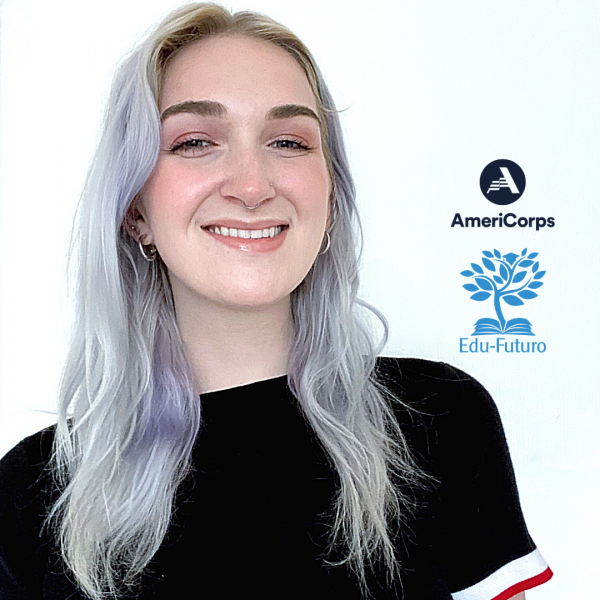 Milena Jeffers
AmeriCorps Volunteer Coordinator
Milena Jeffers is a graduate of Brandeis University where she studied Sociology. Milena has spent four years investigating national and global power structures, gaining an increased commitment to racial and social justice. Growing up in the Pittsburgh Public School system, Milena was lucky to be involved with communities of youth activists who sought to change policies. Milena hopes that she can utilize her education and experiences to empower other young people to take action and create their own futures. Her passion for education led her to Edu-Futuro, where she is excited to put her theoretical knowledge to practice as our new AmeriCorps Volunteer Coordinator. Originally from Arlington, Milena is enthusiastic about reconnecting with her history and serving the Edu-Futuro community.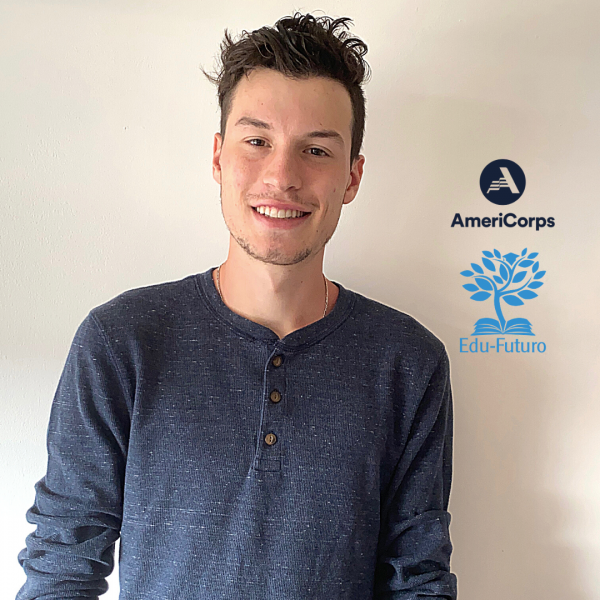 Raymond Smith
AmeriCorps ELP Coordinator
Raymond is a recent graduate of University of Delaware, where he double majored in Political Science and Public Policy with a minor in Sociology. As a student, Ray worked in student government, alumni outreach and community engagement. He also was extensively involved in community service and interned in state government. Ray is incredibly excited to carry out Edu-Futuro's vision and help lead the Emerging Leaders Program as our new ELP Coordinator.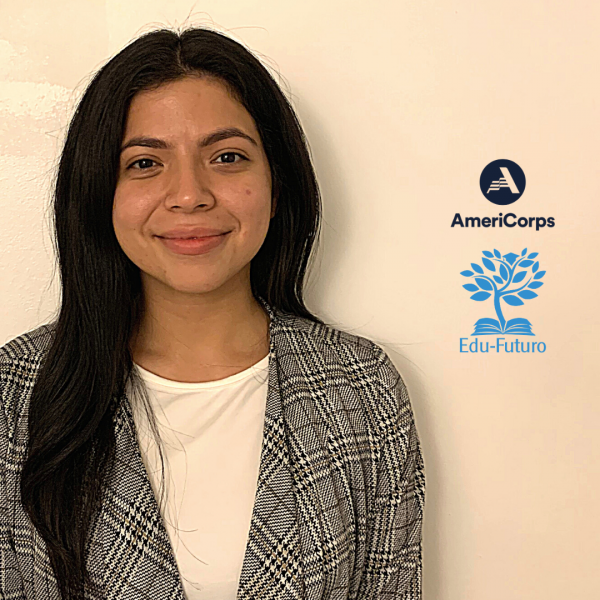 Katie Baca-Ortiz
AmeriCorps ELP Facilitator NOVA
Katie Ortiz is a current senior at Utica College located in Upstate New York. Her major is Psychology Child-Life with a minor in Spanish. Katie is the daughter of Honduran immigrants, and was raised in Alexandria, Virginia. She has served as a volunteer in programs which mentor, educate, and guide adolescents who come from a low-socioeconomic background. Katie is passionate about immigration reform, diversity, and serving the youth. She decided to take her passion to the next level, so during her last semester of college, she joined AmeriCorps and became a volunteer for Edu-Futuro. Katie fully identifies with Edu-Futuro's mission to "empower under-resourced immigrant youth and parents through education, leadership development, and family engagement, to become the next generation of professionals who transform their communities." Katie is honored to be a part of Edu-Futuro's team.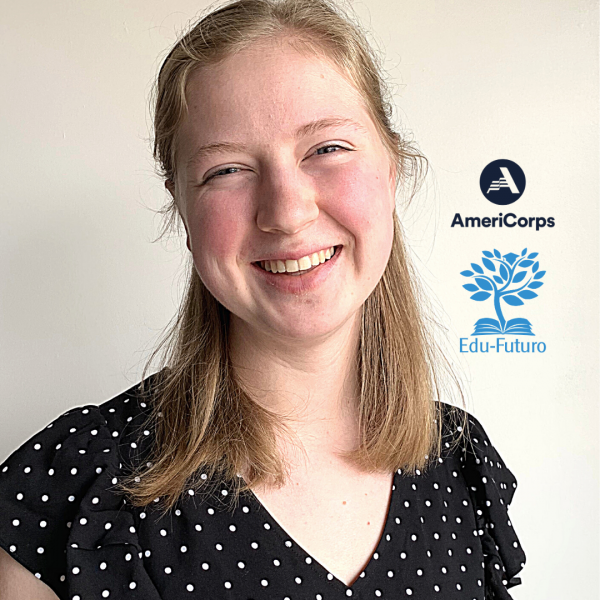 Siena Kunze
AmeriCorps ELP Facilitator NOVA
Sienna is a recent graduate of George Mason University, where she studied Social Justice and Human Rights and minored in Sustainability Studies. During her years of study, she held a special interest in race, immigrant, and refugee studies. Originally from Nebraska, Sienna has found a great home in Northern Virginia and looks forward to serving the immigrant community in the area and supporting Edu-Futuro's mission.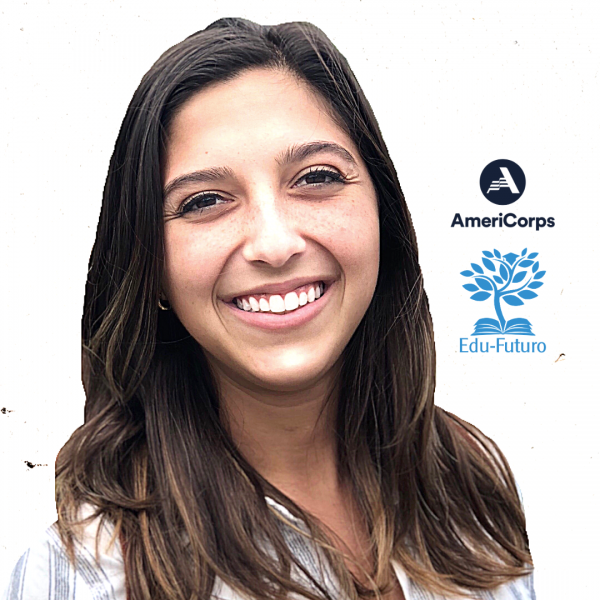 Julia Goetz
AmeriCorps STEM Robotics Clubs Facilitator NOVA
Julia is a Puerto Rican who was born and raised in South Florida. She is a recent graduate of the University of Florida, where she double majored in Biology and Behavioral and Cognitive Neuroscience. She has served in numerous volunteer programs where she focused on educating, mentoring, and empowering underprivileged youth. Julia has volunteered abroad in both Spain and Costa Rica to teach children English and help rebuild homes. Julia is currently applying to medical school and is eager to combine her volunteer experiences with her science background while serving as the STEM Robotics Clubs Facilitator. She is passionate about Edu-Futuro's mission and is extremely excited to serve with the team.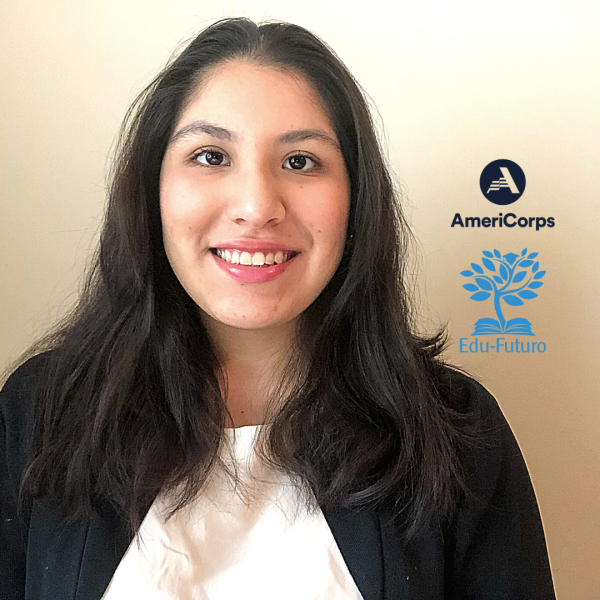 Natalie Arandia
AmeriCorps STEM Robotics Clubs Facilitator NOVA
Natalie Arandia is a current junior at George Mason University in Virginia. Her major is in Business with a minor in Software Engineering. Natalie is the first person in her family to attend college and the daughter of Bolivian immigrants. Natalie was previously an ELP I & ELP II student at Edu-Futuro, so we're very proud to have her in our AmeriCorps Team this year. She also interned with Edu-Futuro to help create the virtual STEM programs. Natalie is passionate about helping students learn how to code and further their education. She is very excited to be a part of our team.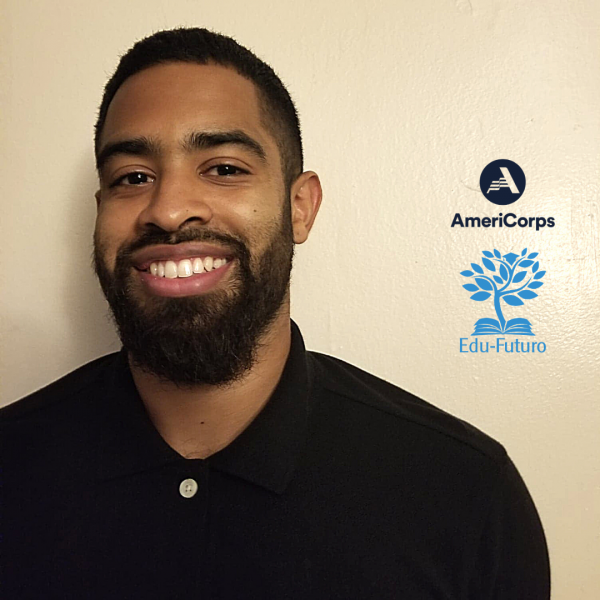 Hector Tejeda
AmeriCorps ELP Facilitator NOVA
Hector is a New Yorican who was raised by a single Puerto Rican mother. He also has roots in the Dominican Republic on his father's side. While his passion for basketball did not get him a college scholarship, his hard work led him to be accepted to the AOP/HEOP program at Union College. Due to his background, he has constantly mentored innercity youth, worked at summer camps and led community service events. Hector has studied and worked abroad in both Thessaloniki, Greece, and Salvador, Brazil. He also recently completed a Masters in International Crime and Justice from John Jay College of Criminal Justice.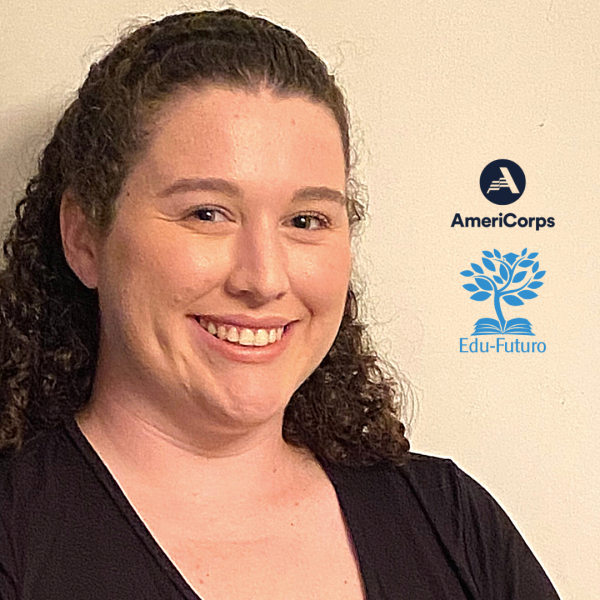 Lauren Wilson
AmeriCorps Youth & Parent Facilitator
Lauren is a recent graduate of the University of Miami where she majored in Public Health with minors in Spanish and Psychology. She volunteered with communities in Florida as well as Costa Rica and Ghana to build homes and improve infrastructure. Lauren was raised in Northern Virginia and is excited to serve the community she grew up in alongside the rest of the Edu-Futuro team.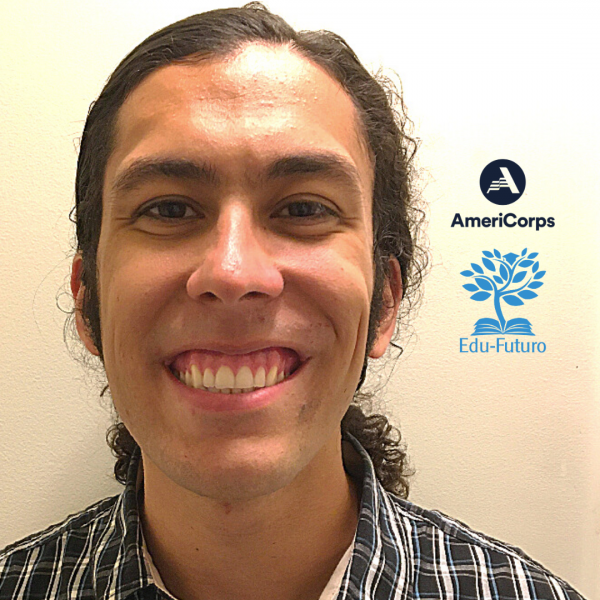 Santiago Alfonzo Meza
AmeriCorps ELP Facilitator NOVA
Santiago has lived in the Northern Virginia area for over a decade, but he is first and foremost a proud immigrant from Caracas, Venezuela. He is in his last semester at George Mason University, where he is currently double-majoring in Music and Environmental Sustainability Studies. He endeavors to transform his personal experience navigating in the public and higher education school systems into practices that support his community. As a professional student, he always looks forward to learning from his Edu-Futuro family.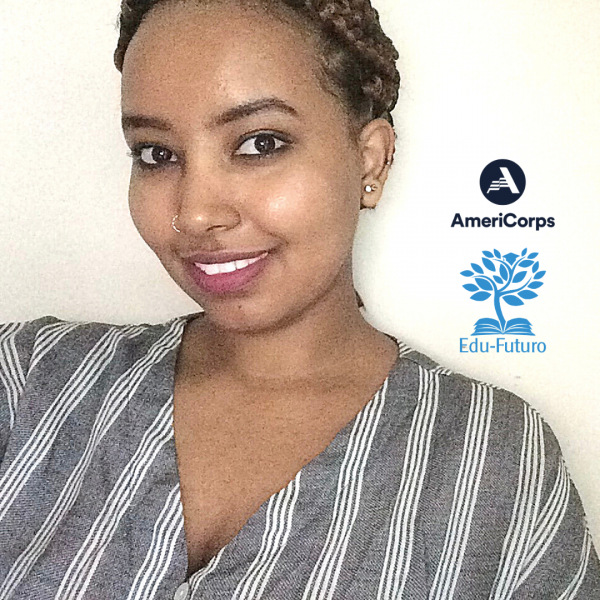 ‍‍Lidia Mengistu
AmeriCorps ELP Facilitator NOVA
Lidia was born and raised in Eritrea. She came to the U.S. when she was 11 years old. Her undergraduate degree is from Old Dominion University, where she studied Psychology and minored in Human Services. Currently, Lidia is enrolled in George Mason University's Clinical Counseling Masters program. During her spare time, she enjoys listening to music, drawing, and reading. She is always interested and open to new hobbies, so she's sure the list will expand real soon. Lidia is thrilled to be part of the Edu-Futuro team, and she is looking forward to serving her community.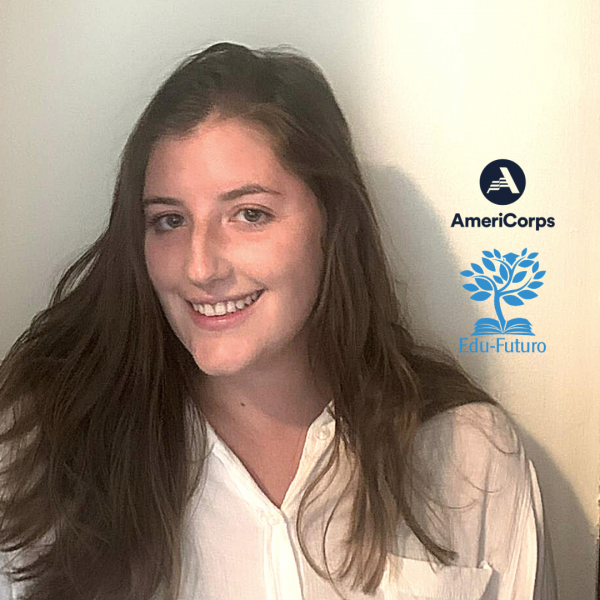 Pilar Stoeppelwerth
AmeriCorps Youth & Parent Facilitator
Pilar was born in Buenos Aires, Argentina, and grew up at the Jersey Shore. She graduated from the University of Colorado Boulder with a BA in International Affairs. She served in the Peace Corps as a TEFL Volunteer in Ecuador. Sadly, her service was cut short due to COVID-19 but she is very excited about the opportunity to work with Edu-Futuro as an AmeriCorps Member. She has a youth development and research background and is very passionate about serving immigrant communities. She also enjoys learning new languages, cooking, traveling, and listening to music.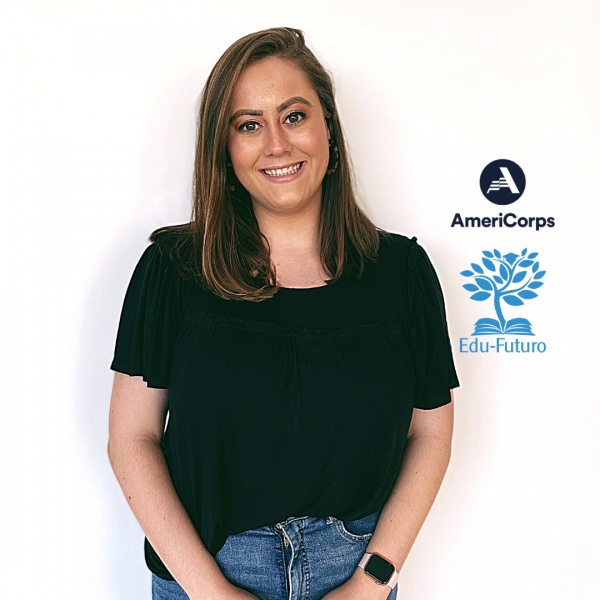 Selina Mueller
AmeriCorps ELP Facilitator Roanoke
Selina is a recent graduate of the University of Mary Washington in Virginia, where she studied Political Science and German Literature. During her studies, she gained volunteer experience by serving with several local organizations that concern themselves with providing educational support to immigrant youth. Selina also worked at her university's study abroad center, which allowed her to go on study abroad trips to Canada and Poland, gaining a great amount of insight into different cultures. Being an immigrant herself, Selina is excited to serve students of all backgrounds and to support Edu-Futuro in empowering future leaders. In her free time, Selina likes to read, explore nature, and play with her dog.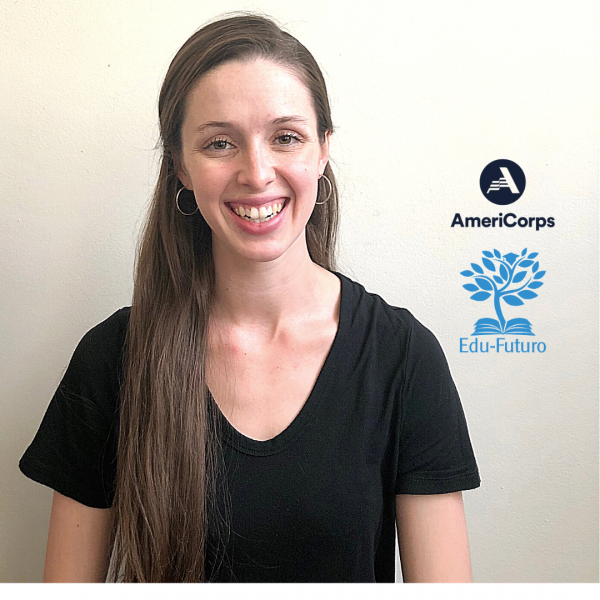 Harper Garcia
AmeriCorps ELP Facilitator NOVA
Harper holds a degree in Criminal Justice from the University of Maryland. She is actively involved in the arts and runs her own non-profit arts organization, called PenArts, Inc. Harper is very passionate about connecting with the community and finding ways to unite us all, through creating opportunities for everyone. She is so honored and excited to be serving as an AmeriCorps Member with Edu-Futuro.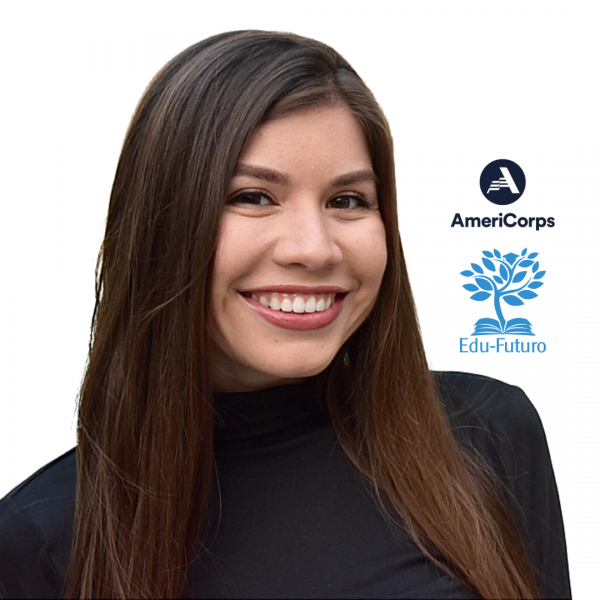 Shannen Mitchell
AmeriCorps ELP Facilitator NOVA
Shannen is from Coral Springs, Florida, and received her MA in Education specializing in Curriculum and Instruction from the George Washington University, and BA in English from the University of Florida. She is a Peruvian British American with her mother from Peru and father from England. During her studies, Shannen gained service experience by serving with local and international organizations focused on education inequity. She has a strong passion for mentoring youth regarding academic/college assistance or social-emotional support. During her free time, she enjoys reading mystery novels and crocheting. Shannen is honored and excited to be serving as an AmeriCorps member with Edu-Futuro.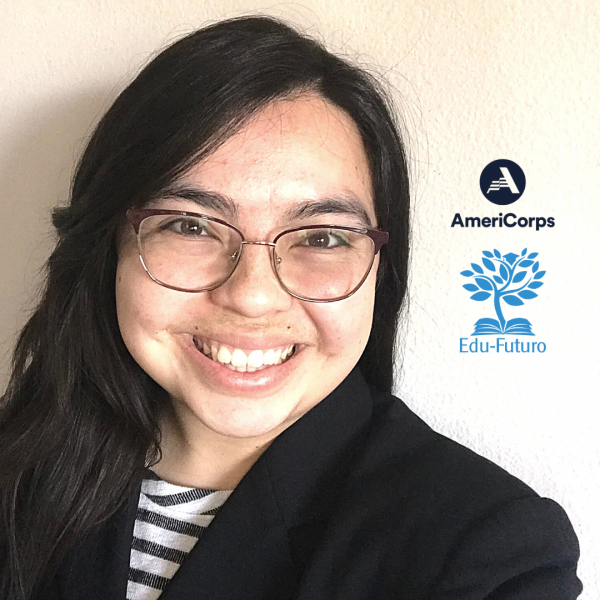 Toni Nadine Castillo
AmeriCorps STEM Facilitator NOVA
Toni is a first-generation Mexican-American and is the first in her family to attend and graduate from a university. She recently graduated with a Bachelor of Science in Environmental Resources Engineering from Humboldt State University. Toni is passionate about bringing social justice and feminist frameworks to STEM education and the STEM workforce.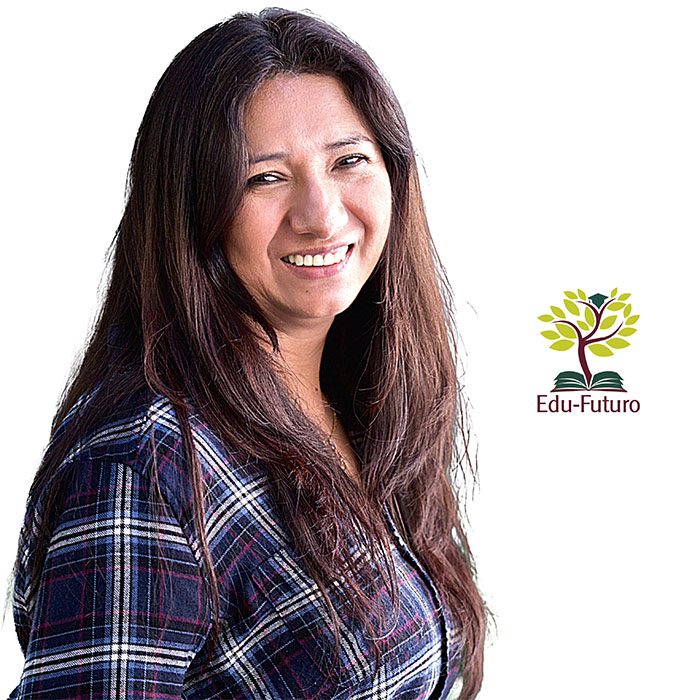 Norka Morales
Administrative and Operations Coordinator
Norka was born and raised in Cochabamba, Bolivia, and moved to the U.S. in 2010 along with her daughter. She graduated from the Higher University of San Simon with a Bachelor's Degree as a Public Accountant. Norka's past experience at the Airport Administration AASANA in Cochabamba has given her the opportunity to join Edu-Futuro's team as the Administrative and Operations Coordinator. Norka admires Edu-Futuro's strong mission and she is always willing to help other immigrants and their communities.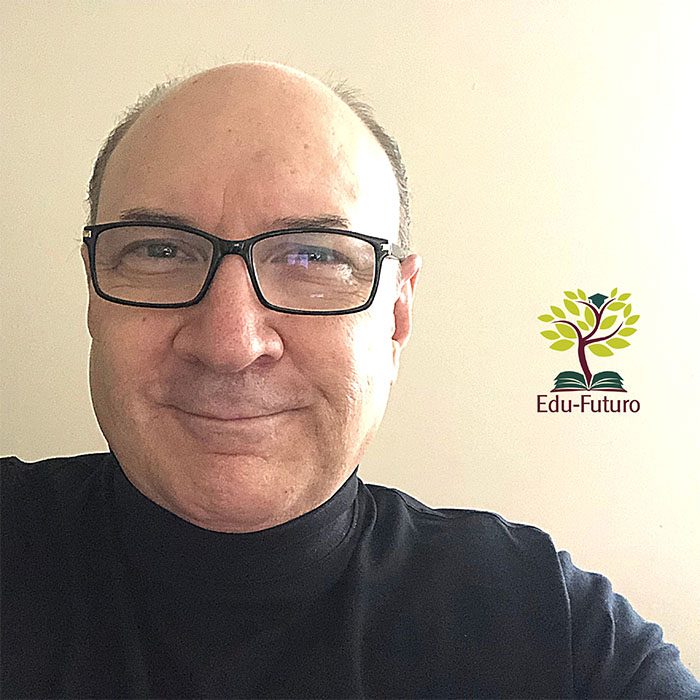 Eduardo López
Communications & Programs Coordinator / Línea Directa Producer
Eduardo López is the Founder/Producer of Línea Directa, one of the nation's longest-running Spanish-language television programs dedicated to Latino public service and community outreach. Since 1990, the weekly series has provided thousands of immigrant families living in the Washington metropolitan area with information on important education, health, legal, and social service issues. The program airs each Saturday morning on the capital region's leading Spanish-language television station, Telemundo 44. Eduardo is also the co-director of Harvest of Empire, an award-winning documentary focusing on immigration.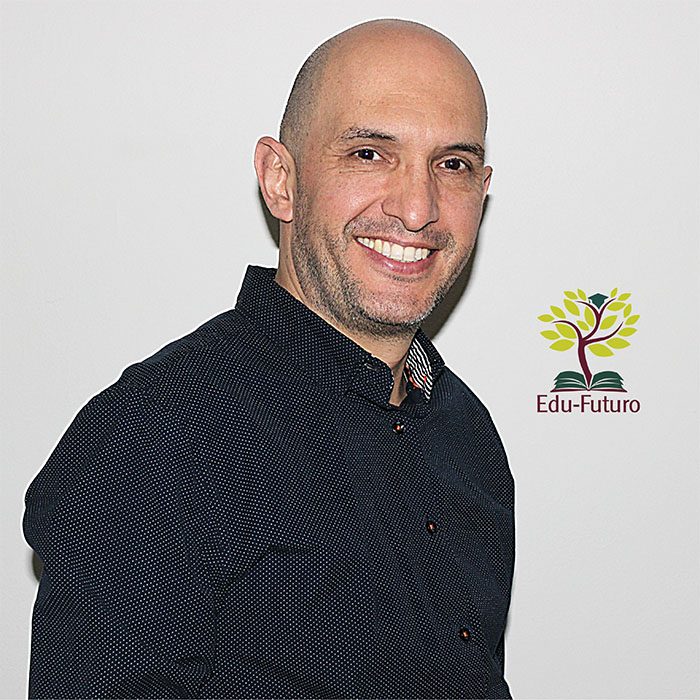 Rodrigo Ferro, MBA
Program Specialist - Development Team Member
Born and raised in Colombia, Rodrigo has more than 25 years of experience in marketing, endomarketing, and branding. He combines his experience in the private sector with his knowledge of the Non-Profit world, considering he was the General Manager of the Museum of Modern Art and the Colombia's Opera for 5 years, besides being Advisor of many Non-Profit and for-profit Organizations in Latin America. Rodrigo is Magister in Marketing Management, and Bachelor in Marketing and Advertising, and now he works with Edu-Futuro supporting the internal and external communications, essential to Edu-Futuro's overall success, besides the support of Programs staff and the data intelligence process as a very important member of our Development Team.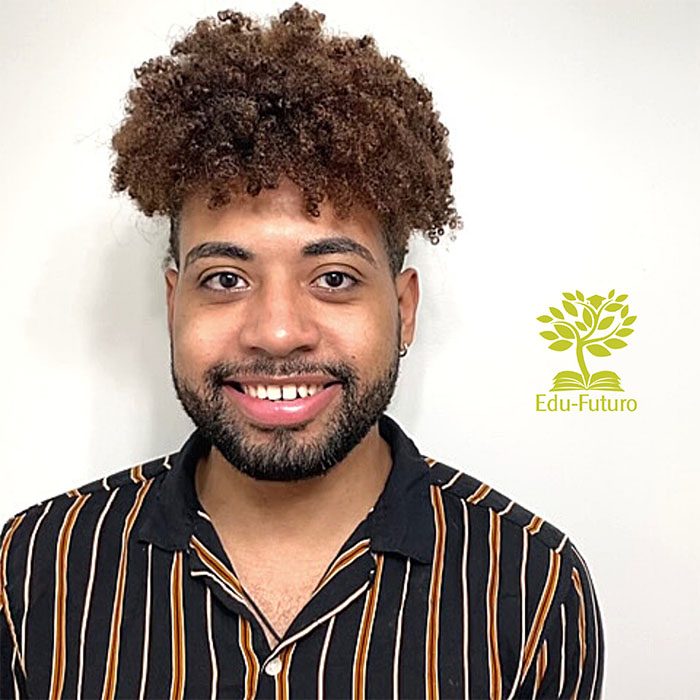 Jose Molina
Stevenson Center - ISU, Peace Corps 2020-2021 Fellow
Jose is a first generation Dominican-American, Lowell Massachusetts native. He received his double BA in Political Science and Psychology from the University of Massachusetts Lowell (UML) in 2017. Some of Jose's experiences at UML include serving as Vice President for the Latin American Student Association, interning at the Office of Multicultural Affairs, and mentoring high school seniors of color who had been accepted into the University. Jose joined the Peace Corps as a Youth Development volunteer, serving for two years in the caribbean province of Limon, Costa Rica. There, Jose worked with youth service providers to create diverse curriculums and activities intentionally addressing various areas in the lives of youth, such as mental health, sexual and reproductive health, positive communication and active lifestyles. He continues his higher education at Illinois State University, pursuing an interdisciplinary MA in Community and Economic Development - Anthropology. Jose's passion for public service has led him to Edu-Futuro, where he is completing his 11 month Fellowship as a part of his MA requirement. He is thankful to continue learning with Edu-Futuro and to be able to support his community.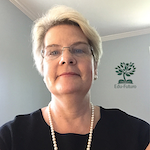 Jeanne Balcom, Board President is an innovative leader with over 20 years of experience in international securities market regulation and financial services consulting. She is currently an Executive Principal and the Head of Regulatory Policy at the Options Clearing Corporation. Prior to this role, she served as a Senior Director for International at the Financial Industry Regulatory Authority, where she spearheaded the founding of the Americas Chapter of the International Forum for Investor Education to share best practices across Latin America and represented FINRA on the Council of Securities Regulators of the Americas. Ms. Balcom holds a bachelor's degree in Russian Studies from Dartmouth College and a Master's degree in Latin American Studies and International Economics from the School of Advanced International Studies at the Johns Hopkins University. She is fluent in Spanish and proficient in Portuguese. This is Ms. Balcom's first term on the Board.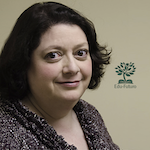 Betsy Jaffe, Board Secretary (2018-2021) is a public affairs executive with more than 25 years of experience serving corporations and trade associations.  She is the founder and president of Amplitude Strategies, a strategic communications firm serving the audiovisual industry. Previously Ms. Jaffe served as senior vice president at AVIXA – the Audiovisual Integrated Experience Association where she worked in communications, government affairs, conferences, sales and social media. Her work has been featured in publications including the Wall Street Journal, The Washington Post, the New York Times, USA Today and numerous business journals and trade publications. Ms. Jaffe holds a bachelor's degree from American University and a master's degree from George Washington University. This is Ms. Jaffe's first term on the board.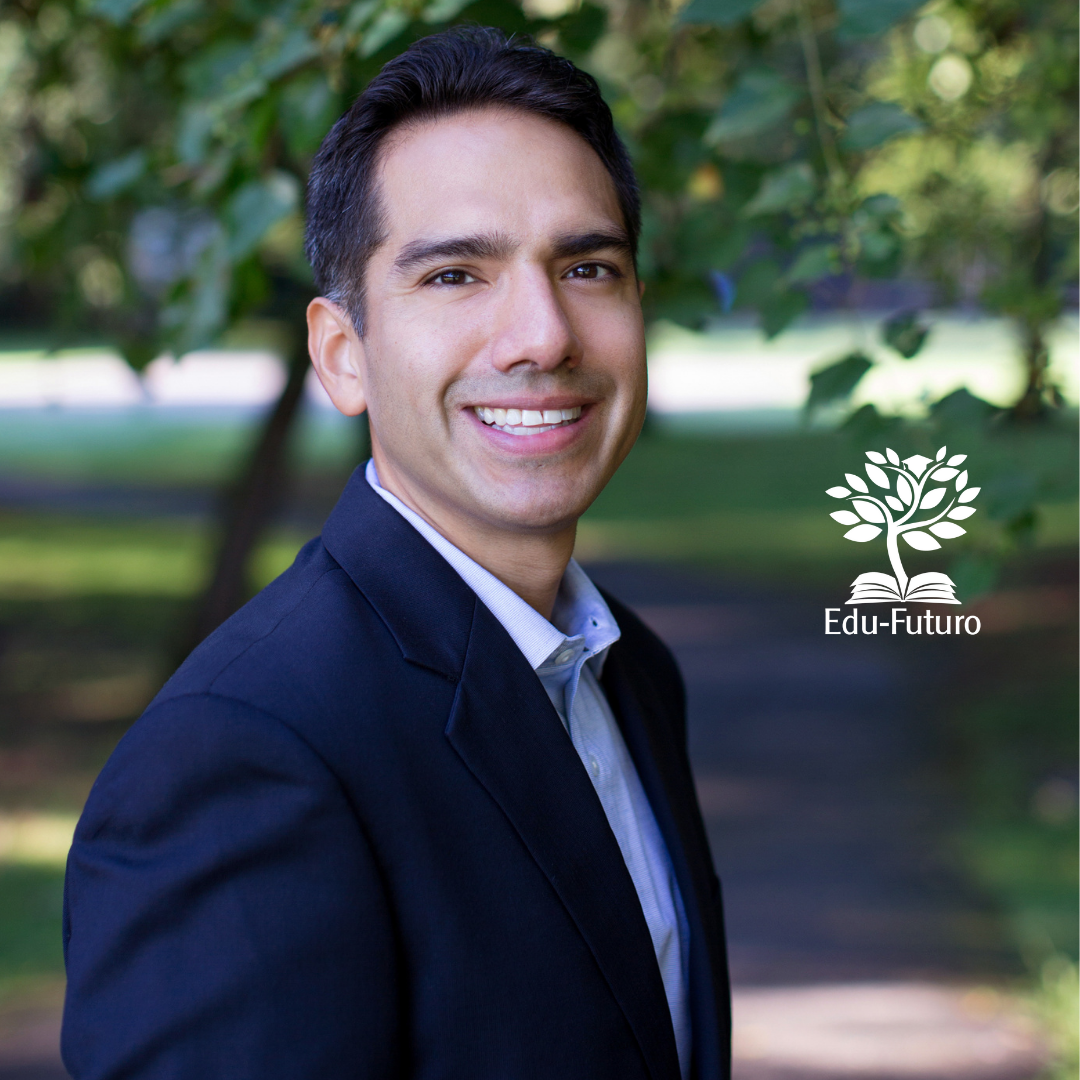 Chris Falcon (2018-2021) is the Civil Division Supervisor, Legal Counsel, and Deputy Clerk of the Arlington Circuit Court. He is also the founding attorney and owner of The Falcon Firm PLLC, focusing his practice on business consulting and estate planning. Mr. Falcon serves on the Fairfax County Human Services Council. He was previously appointed by Governor Terry McAuliffe to the Virginia Latino Advisory Board, which he served on from 2014-18.  Mr. Falcon received his J.D. from the Widener University Law School and B.B.A. from James Madison University. This is first term on the board.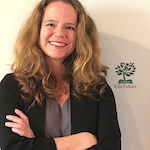 Cara Santos Pianesi (2015-2018, 2018-2021) has helped organizations communicate clearly to garner attention for issues of international development for more than 20 years. She is currently a Communications Lead at the World Bank Group. She previously worked at the United Nations Development Program, the Carnegie Endowment for International Peace, and Amnesty International. She moved to Alexandria, VA from Miami where she concentrated on private-sector communications vis-à-vis Latin America with Foote, Cone, and Belding. Cara has a master's degree from Johns Hopkins University's School for Advanced International Studies (SAIS) and a B.A. in International Studies and Economics from the University of Miami. This is her second Board term.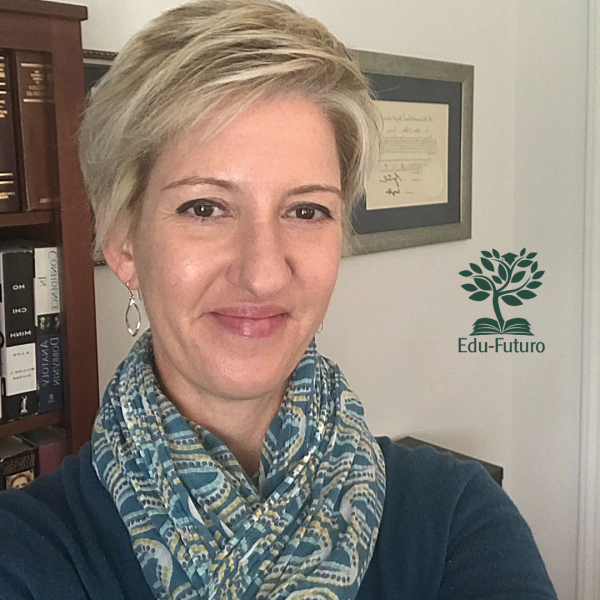 Tonia Weik is a strategic communications professional with 20 years of experience in international affairs. As a Foreign Service Officer with the U.S. Department of State, she has directed communication and public outreach in multiple countries and regions throughout Asia, Africa, and Europe. Also a former English as a Second Language teacher, Ms. Weik is a leader in developing strategies for communicating across cultures. She currently instructs at the National Foreign Affairs Training Center. This is her first board term.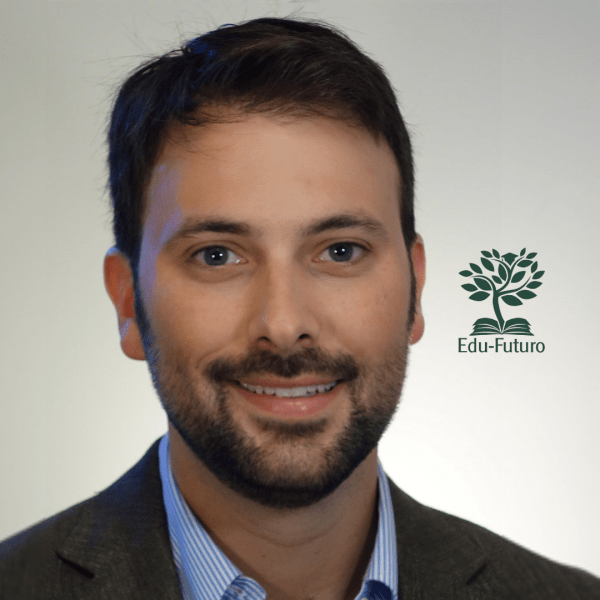 Hugh Pace (2021-2024) is the Director of Human Resources for United Income, Capital One's wealth management technology business. Previously he was responsible for the strategy, design, and delivery of a program that produced thousands of technology hires. Prior to joining Capital One, Hugh held roles at McKinsey & Company and Korn Ferry. Hugh holds an MBA from the University of Virginia Darden School of Business and a bachelor's degree from Ohio Wesleyan University in Economics. While he was born in Lima, Peru he considers home Mexico City, Mexico where he grew up. Hugh currently resides in Reston, Virginia. This is his first term on the board.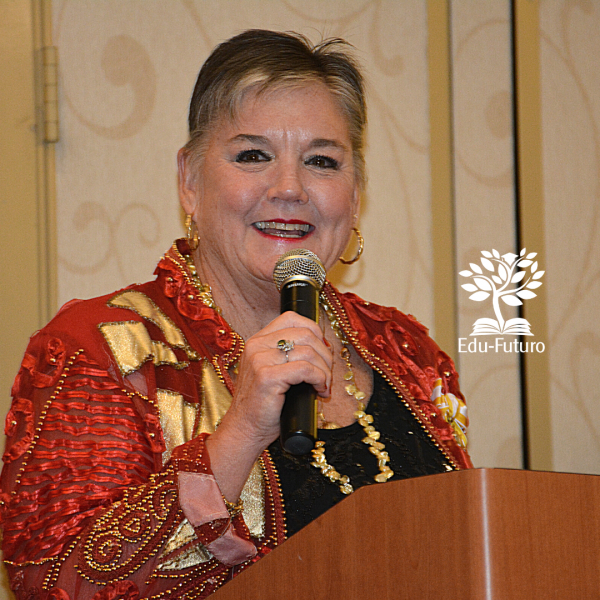 Dr. Marjorie L. Myers joined our Board of Directors in February of 2021. During her 46-year career in education, she taught Kindergarten through-Higher Education and worked as a Spanish teacher, an ESOL teacher, a bilingual counselor, central office program manager for ELL students, an adjunct professor, an assistant principal, and a principal. She taught and worked as a school administrator in Florida, Georgia, Venezuela, DC, and Virginia. She holds a BA in Secondary Spanish Education from the University of Florida (1972), an MA in bilingual and multicultural education from George Mason University (1985) in Fairfax, VA; has 33 hours of post-graduate coursework in computational and applied linguistics and a Doctorate of Education in Bilingual Special Education from The George Washington University (2009) in Washington, D.C. From 1995 to 2018 Dr. Myers was the principal of Francis Scott Key Elementary in Arlington, Virginia. In September of 2012, that School was recognized by the Ministry of Education of Spain as the International Spanish Academy (ISA) "School of the Year 2011." Dr. Myers is a contributing author in the 2014 Virginia Collier and Wayne Thomas book, Creating Dual Language Schools for a Transformed World: Administrators Speak. She is published in other articles and books. In January of 2018, Dr. Myers was awarded La Cruz de Isabel la Católica by King Felipe VI of Spain for a lifetime of promoting Spanish language and culture in the Americas. She retired from APS in July of 2018. The Key School PTA established the Dr. Marjorie L. Myers Scholarship Fund with Edu-Futuro as a legacy fund at her retirement, and to help first-generation college students with educational expenses. The Rotary Club of Arlington awarded her the Lifetime Achievement Award. In October 2018 Edu-Futuro presented a plaque to Dr. Marjorie L. Myers Principal Emerita Francis Scott Key Immersion: The Edu-Futuro Arlington County Community Partner of the Year Award, in grateful recognition of her outstanding efforts and proven success in educating students and others to understand the benefits of communication in more than one language in the context of their diverse cultures, as members of the community and citizens of the world. Dr. Marjorie L. Myers is honored to join our Board of Directors.
Board Volunteers
Celina Penovi recently retired from the Multilateral Investment Guarantee Agency (MIGA), a member of the World Bank Group, where she served as Senior Legal Counsel. At MIGA she handled international transactions in countries around the world and interfaces with government authorities on issues relating to foreign investment. Prior to joining the World Bank, she worked in law firms in Argentina and San Francisco, California where she received a service award for her pro bono immigration work with Hispanic clients.  She is a strong advocate of bilingual education and has published several bilingual children's books. Ms. Penovi received her J.D. from the University of Buenos Aires and a Masters of Law in International Transactions (LL.M.) from the University of California, Berkeley, School of Law. She has served two terms on the board, most recently as Board President.
Robert Panfil has over 30 years of experience working with transportation and infrastructure projects throughout Latin America, South Asia and the South Pacific regions. During his 25-year career at the World Bank, he undertook sector and program lending and project procurement and supervision. As infrastructure manager in India, he was responsible for the development of one of the World Bank's largest highway sector lending programs. He also served as senior advisor to the Australian Foreign Aid Agency. Mr. Panfil has a B.S. from the University of Pennsylvania in Finance and an M.S. in Economics from the University of Wisconsin. He has served 3 non-consecutive terms on the Board and has been Treasurer.
Dr. Katharine Panfil has worked in education over 30 years in the US and abroad, including Venezuela, Guatemala, El Salvador, Argentina and Tanzania.  During her career with Arlington Public Schools (APS) where she began as an ESOL teacher, she was Foreign Language Supervisor, Principal of Key Elementary School where she led the development of APS Spanish language immersion program, and Principal of Randolph Elementary School at the time it became the first Primary Years Program of the International Baccalaureate in a public school in the DC metro area. Dr. Panfil holds a Ph.D. in Education from George Mason University. She has served 4 non-consecutive terms on the Board and has been the President and Vice-President.
Dr. Phillip Church, Board Vice President (2014-2017, 2017-2020), is Senior Economist at DevTech Systems, Inc. where he provides technical advisory and training assistance on the strategic planning, monitoring and evaluation of USG international development assistance projects and programs. Most recently in Central America he supervised and trained staff in the monitoring and evaluation of USG grants to organizations working to get child laborers out of work and back into school.  Before joining DevTech, Dr. Church served for 25 years as a Foreign Service Economic Officer with the United States Agency for International Development (USAID). His international development career has led him to work and live in several Latin American and Asian countries. Dr. Church holds a Ph.D. in Economics from the University of Oregon, an M.A. in Latin American Studies from Stanford University, and an A.B. in Economics from the University of Chicago. Dr. Church is fluent in Spanish and proficient in French. This is his second term on the Board.
Connie Church was the Director of Finance and Administration for the Association for Prevention Teaching and Research (APTR) until her retirement in 2009. At APTR she was responsible for all accounting, financial reporting to the board and government partners, human resources and office administration. She is currently a tax accountant for private clients. Ms. Church grew up in Mexico and lived and worked abroad for several years; in Bangladesh, she served as Vice President of the American International School Board; in Guatemala she was the co-founder and treasurer of an adoption agency. Ms. Church holds a B.A. in History from Stanford University and an M.A. in Accounting from George Washington University. She has served two terms on the Board, part of that time as Board Treasurer.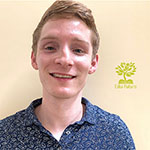 Zachary Paget  (Chair) (2018-2019) is a recent graduate of the University of Virginia's McIntire School of Commerce, where he concentrated in Information Technology and Finance with a minor in Spanish. Zachary currently works for Accenture as a Technology Analyst, where he uses his educational background to solve problems at the intersection of technology and business for the federal government. During college, Zachary took part in many extracurricular activities, including being the President of the 250-person University Salsa Club while also helping to organize Madison House's ESOL program, where UVA students provided tutoring to younger students for whom English was a second language. In between years of college, Zachary spent a summer working for a nonprofit in the Dominican Republic and another working for a litigation consulting firm in D.C. When not working, Zachary is often running, playing soccer, or traveling to a country where he can practice his Spanish. He is currently serving his first year as Chair of the Associate Council.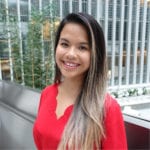 Tran Tran (2018-2019) arrived in the U.S. at 16 from Ho Chi Minh City, Vietnam, and was the first in her family to attend an American university. Tran graduated from Louisiana State University in 2014 with a Bachelor's degree in Public Relations and minors in Business and International Studies. During this time, she spent one semester as an exchange student at La Universidad de Puerto Rico-Rio Piedras in San Juan, Puerto Rico. Her experience as a first-generation college graduate in the U.S., along with an interest for exploring and bridging cultures, forms the basis of her social mission to empower immigrant communities across backgrounds through education.  Tran is a Certified Public Accountant (CPA), and currently works as a consultant at CrossCountry Consulting, based in McLean, VA.  She currently serves as the Public Relations Officer for the Associate Council.
Diego Soto (2018-2019) was born and raised in Honduras. After graduating from high school he moved to Costa Rica to study Law at Universidad de Costa Rica. During Law School, he worked at the law firm Arias & Muñoz and was in charge of managing a Pro-bono account, "Un Techo Para Mi Pais" today called "TECHO" which is a major foundation that provides habitation solutions and organization of communities, throughout Latin-American countries. In 2013, he became a Board Member of the Costa Rican Association for International Law and was appointed Deputy Director of the Foreign Affairs Committee for the Law Students Association at the Universidad de Costa Rica. In 2014, he moved to the United States. Since moving to the U.S., Diego has been invited to be a Guest Speaker at the Latino Youth Leadership Conference for his role as Chapter President and later State President of Junior Chamber International. He also volunteers as an Editor for WH Español. Since 2015, he has been working at the World Bank Group and he currently works in the Legal Affairs and Claims Group at the Multilateral Investment Guarantee Agency.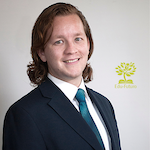 Ricardo Espitia (2018-2019) has 8 years of public service experience in facilitation, program design, operations, training and nonprofit administration. He currently works at Peace Corps Headquarters where he supports overseas programming and training efforts. He is a Masters of Development Management candidate at American University. Ricardo served as a Youth Development Peace Corps Volunteer in the Philippines from 2014-2016 where he partnered with his position counterparts to service first generation college students, develop a high school leadership program and participate in multiple USAID projects. Outside of work he serves on the board of the PCAFPD which provides full scholarships to need based, high achieving Filipino students. Over the years he was involved in program administration for the National Hispanic Institute and has served as a Student Supervisor and Executive Team Leader for various student leadership academies. Ricardo is from Austin, Texas and holds a B.A. in International Relations and Urban Geography from the University of Texas at Austin. He speaks Spanish, Kinaray-a (Filipino dialect), and Tagalog (Filipino). His passion involves enhancing human capacity, student programming, training, diversity and youth development.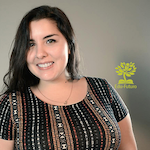 Adriana Thornton grew up in Arlington, VA but has roots in Cochabamba, Bolivia. In 2016 she was the first in her family to graduate from a U.S. college with a Bachelor of Arts in English Literature and Spanish. Adriana currently works at the PEN/Faulkner Foundation as the Nuestras Voces Program Associate. In this role, she supports the coordination & development of the organization's education programming; with an emphasis on amplifying Latinx voices in the Nuestras Voces program, a bilingual education initiative. Previously Adriana taught 5th Grade English Language Arts Teacher in Brooklyn, NY and served as an AmeriCorps ELP I Facilitator at Edu-Futuro. Adriana has supported the educational, social and emotional development & growth of all the students she's had the privilege of working with. Outside of work, Adriana enjoys baking, reading, and taking long walks with her dog, Pebbles.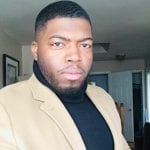 Demetrius Battle (2020) is a native of Prince George's County and graduated from Frostburg State University. He is an aspiring leader in the Public Policy or Intelligence sector with over 8 years of work experience, providing rigorous quality assurance support and advanced analytical principles and concepts, records management skills and superior customer service in various professional settings. Demetrius demonstrates the capacity to provide comprehensive in-depth and analytical support for executive-level staff, including scheduling meetings, coordinating travel, and effectively managing all essential tasks. Throughout his college and post college career Demetrius has been heavily recruited for Executive positions for several organizations due to his excellent coaching skills, with the ability to boost employee morale. Demetrius is highly industrious, communicative, productive and versatile team player and volunteer asset with a broad range of core competencies developed from diverse experiences. In his spare time, Demetrius loves to indulge in books, craft new business ideas and attend networking events in the local DC metropolitan area.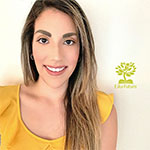 Karina Solis (2020) is a native of Northern Virginia, and grew up in the Fairfax County Public School System. She later attended Louisiana State University, where she majored in Mass Communication with a concentration in Broadcast Journalism. While in college, Karina worked as a reporter for the campus news channel, and interned at news stations in Baton Rouge, LA and Washington, DC. After graduating, she remained in Louisiana for four years while working with various nonprofit associations doing marketing communications and member services. In February 2018, she returned to the DC area in hopes of broadening her knowledge and abilities in a larger market setting. As a member of the Associate Council, Karina hopes to use her nonprofit experience and communications background to help further Edu-Futuro's reach in the local community. She currently works at a civil engineering firm, coordinating plan submission packages to local jurisdictions. Outside of work, she enjoys freelance reporting, traveling, and volunteering for Edu-Futuro programs and events.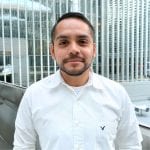 Rick Alcantara (2020) was born in Lima, Peru in 1984. His dad was a Naval Intelligence Officer and his mother was an elementary school teacher. He moved to the United States in 1989, where he attended public school in Loudoun County, Virginia. He graduated from Stone Bridge High School in 2003, and shortly after joined the United States Marines, which he served for the next six years and where he received meritorious promotions and awards. He then proceeded to earn his Bachelors Degree in Business Management from George Mason University in 2012. Upon graduation, Rick went to work for Microsoft and Amazon Web Services. In 2015, he decided to join his family in the construction and real estate business, which he continues to develop today. Rick enjoys spending time with his dog Max, hiking, and attending racing events around the world.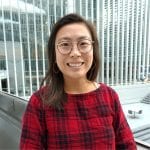 Brittany Hsieh (2019-2020) was born and raised in Richmond, VA and is a proud Taiwanese-American. Her parents immigrated from Taiwan in the '80s, and their journey helped inform her social responsibility to empower others and promote diversity. Brittany has a B.A. in Computer Science and Global Public Health with a minor in Global Environments and Sustainability from the University of Virginia. She focused her studies on exploring the intersections of data and technology with her interests in public service. She fostered her love of travel and understanding cultures in undergrad through her study abroad to Costa Rica and Hong Kong, as well as her public health research in the Dominican Republic. Brittany continues to travel in her personal time and thoughtfully engage in the communities she occupies. In her current work, she applies her mission-oriented drive to critically analyze and translate the needs of the agency into meaningful, tangible outcomes. Brittany specializes in developing strong client relationships, strategic planning, and facilitation in organization development as a management consultant for Accenture Federal Services in D.C. She currently serves as Soccer Tournament Chair of the Associate Council.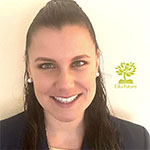 Adrianna Urbano (2020) is a recent graduate of Temple University's College of Science and Technology, where she majored in both mathematics and secondary education, and minored in computer science. Adrianna currently works for Deloitte as a Business Technology Analyst, where she uses her educational and professional background to assist in solving business and technology-related problems for government clients. During college, Adrianna worked as a lead instructor for multiple after school programs geared towards enhancing Greater Philadelphia's underrepresented middle and high school students' science, technology, mathematics, and engineering capabilities and interests to help propel them to the college and major of their dreams. Post-college, Adrianna became a project manager to oversee those after school programs and to facilitate any "behind the scenes" administrative responsibilities and curriculum development. When not working, Adrianna is skiing, binging Disney+ or planning her next trip abroad.
Andrea Cristancho (2019) is a multilingual International Development Practitioner with an MA in Sustainable International Development from The Heller School for Social Policy and Management. She has over five years of experience in building business pipelines, developing professional relationships with partners, and conducting research and fieldwork in developing communities domestically and abroad. Andrea's experiences have solidified her contract and grant writing skills, her ability to build project timetables and monitoring progress, and capacity to transcend language and cultural barriers to complete projects. She is a value-driven, optimistic team leader who thrives in empowering others and excels at soliciting the ideas of others, especially in cross-cultural environments.
Edu-Futuro
You Can Be A Part Of Our Team
We are always looking to expand our team of volunteers. We search out dedicated people that want to make an impact in our community and the world.. If you are interested in volunteering, click the Volunteer Now button below.
Your Donation Will Help Those In Need