Parent Empowerment Services (PES) include all of the programs that Edu-Futuro provides for free to help parents address issues that may be hindering positive family functioning, financial stability and adaptation to life in the United States.  Edu-Futuro offers evidence-based curriculums, workshops and individual case management services that empower immigrant parents to become more involved in their children's lives and education, help improve financial security, and strengthen interfamily cohesiveness.
Case Management Services: We revamped our individual case management to provide emergency assistance to the parents of the students we serve, and beyond. If you want to receive references to free financial assistance, free food, and more resources, please sign-up to our interest list clicking here.
We're able to support families in Fairfax County, Prince William County, Arlington County, and the City of Alexandria, in Northern Virginia.
Workforce Development Services
Workforce Development Services: (Fairfax County Only). Through bilingual computer instruction, job readiness workshops and individual support, this program helps immigrant parents more quickly gain the skills necessary to find, apply for and obtain employment.
The Workforce Development Specialist works with parents who are looking for new/better jobs to understand their needs, employment situation and skills, and works with them to achieve their goals.  Individual support includes among others:
Assistance with Resumes and Cover Letters
Interview Practice
Job Search
Assistance with the Job Application Process
Research on Validation of International Professional Degrees
PARTICIPA… en mi Educacion
PARTICIPA… en mi Educacion: (Arlington & Fairfax County): a course originally developed by APS and adopted by Edu-Futuro in 2010 that teaches immigrant parents how to navigate the school system in order to support and advocate more effectively for their children's schooling. Parents who have gone through PARTICIPA consistently rate its workshops very highly, and many of the immigrant parents who are active in PTAs or countywide committees have gone through the program.
Strengthening Families 10-14
Strengthening Families 10-14: (Arlington & Fairfax County) This program (SFP 10-14) was developed by the Iowa State University to reduce problematic behaviors in youth 10 to 14 years of age.  The program helps parents and youth to develop strategies to resist peer pressure that leads to risky behaviors. Parents learn how to supervise their adolescents in a more active and pro-active way and to stimulate healthy and positive family reunions that according to research, decrease family conflicts and contribute to lower levels of substance use and abuse.
This is a wonderful program that has been offered in Fairfax County for several years and has had excellent outcomes in improving communication between parents and teenagers. This program consists in 7 sessions of two and a half hours each.
Topics covered:
Love & Affection
Peer pressure resistance
Finding family values
Better communication skills
Problem solving
Goal setting
Understanding each other better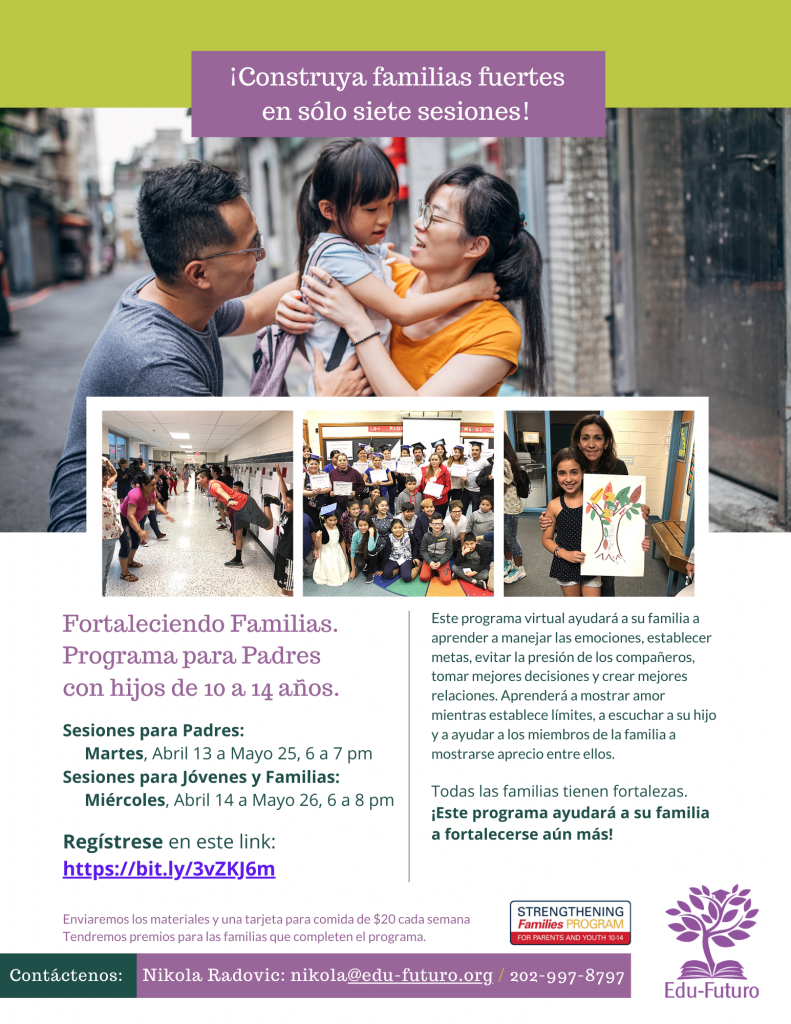 Padres Comprometidos: (Arlington & Fairfax County). This is a curriculum that was developed by Unidos US (former National Council of La Raza – NCLR), and was especially designed to reach parents who are, traditionally, not connected to their children's school as a result of:
Linguistic and cultural differences
Economic background
Negative perceptions about school
Lack of knowledge about how to become involved
This program helps Hispanic parents learn to:
Navigate the United States public school system
Develop goals for their children to ensure they attend college
Understand the academic requirements for college readiness
Model behaviors at home that encourage and promote learning
Originally designed as a nine-session series for parents, and one-and-one-half hours per session,  Edu-Futuro has modified its delivery to a seven-session series for parents, and two-hour per session. In sessions, parents engage in discussions and exercises based on the themes covered by the curriculum.
This program has been successfully implemented in 65 different communities across 21 states in early education centers, charter schools, public schools, and community-based organizations.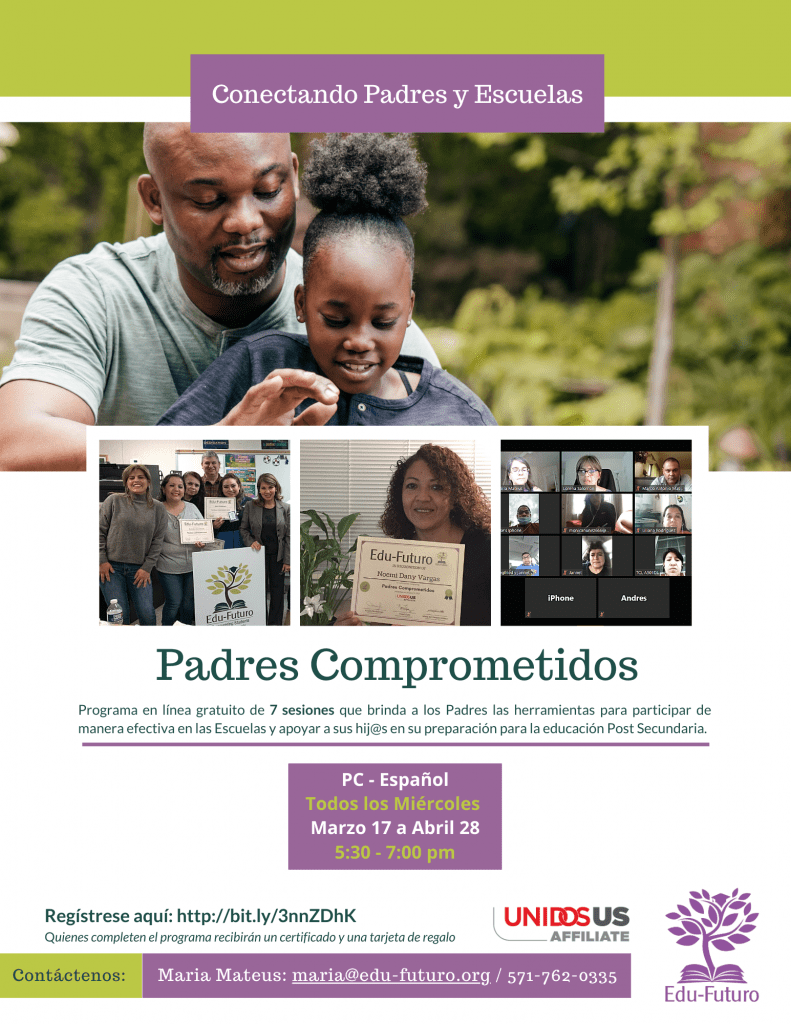 Immigrant Family Reunification Program ("Families Reunite"): (Fairfax County Only). This program was designed to help rebuild relationships between parents and children who were separated during the immigration process and have recently or in previous years been reunited.
The curriculum, that was developed by Fairfax County Public Schools, helps parents develop strategies to resolve conflicts that impact their children's well-being and internal family function, while alleviating the effects of trauma that may have occurred during the separation and reunification process.
This program is delivered in Spanish and consists in two 3-hour sessions for parents and one 3-hour session for parents with their children. Two facilitators follow a curriculum that will help the parents understand and identify their children's behavior and learn strategies to deal with them. They learn about the importance of love and affection and communication skills.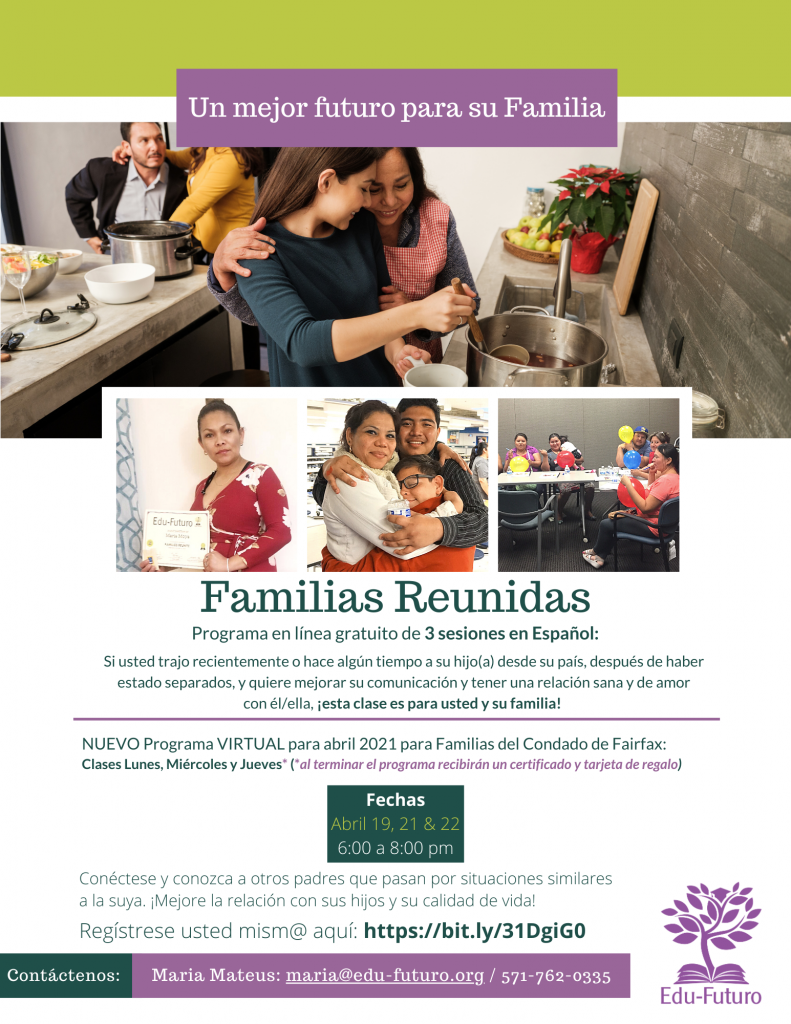 Financial Workshops: (Arlington & Fairfax County). Through a partnership with UnidosUS and the Financial Clinic, Edu-Futuro offers general information and workshops on various financial topics to parents and students, and provides referrals to free one-on-one financial coaching in both Spanish and English. Coaches help clients address issues of financial insecurity and provide guidance on how to achieve goals.
Workshop topics include among others:
Identifying financial goals
Household budgeting and tracking expenses
Paying for college
Pulling and reviewing credit reports
Edu-Futuro invites you to join our 5 workshops addressing the following topics:
Budgeting
Credit
Debit
Taxes
Finances in Difficult Times: Protecting your Identity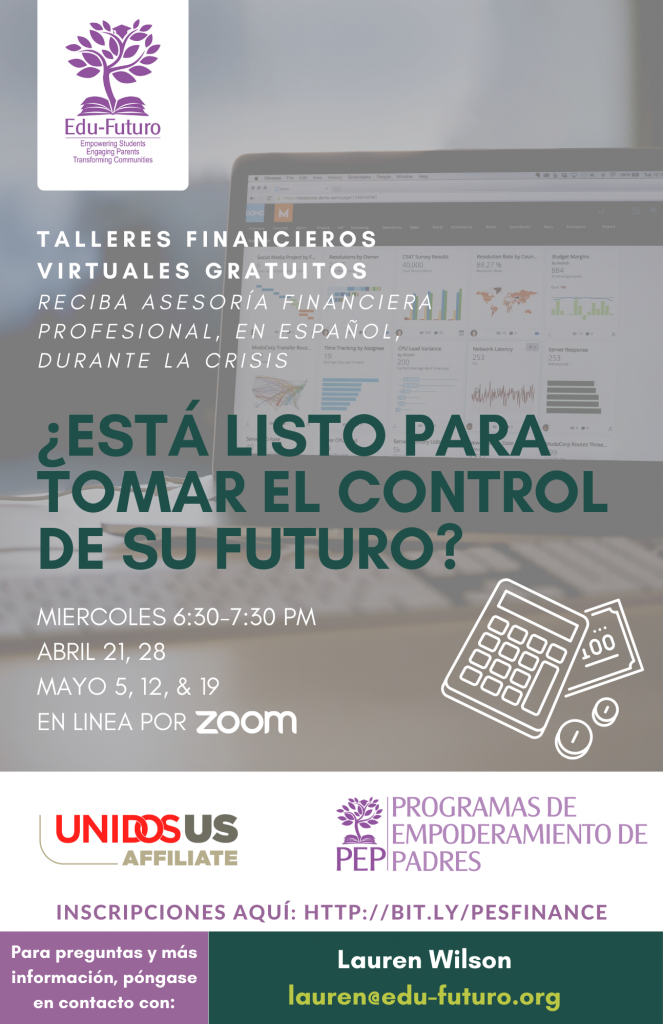 5 Sessions Virtual Program to learn:
Resume
Cover Letter
Where are job opportunities advertised?
Interviews & References
Review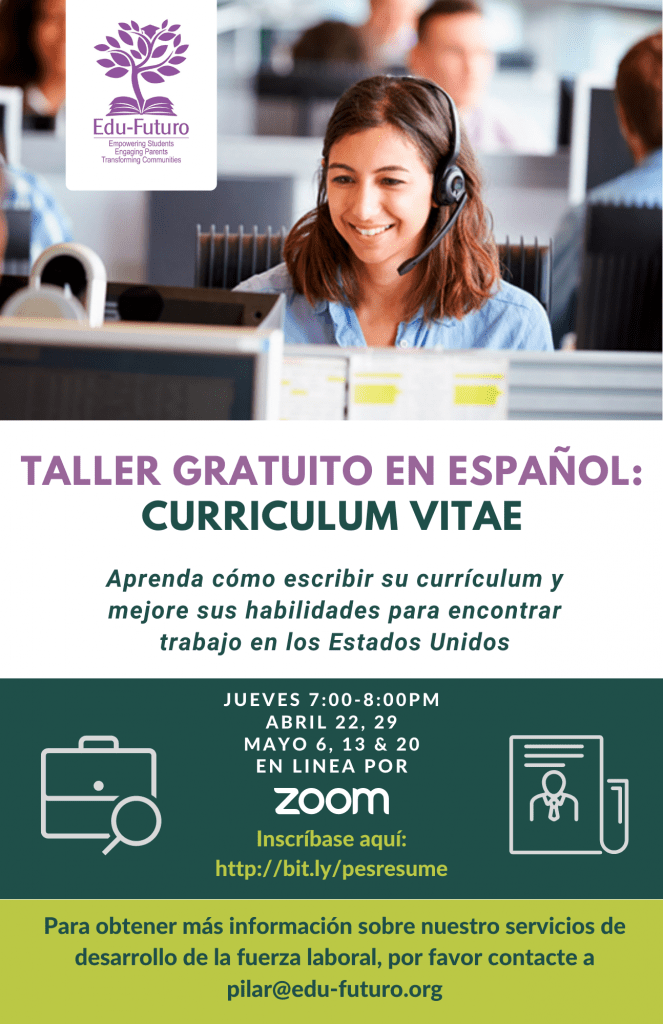 5 Sessions Virtual Program, in Spanish, to learn:
Computer Basics

How to access resources on the Internet

Proficient use of the email

How to communicate to the school

How to monitor your child's attendance & class performance through ParentVUE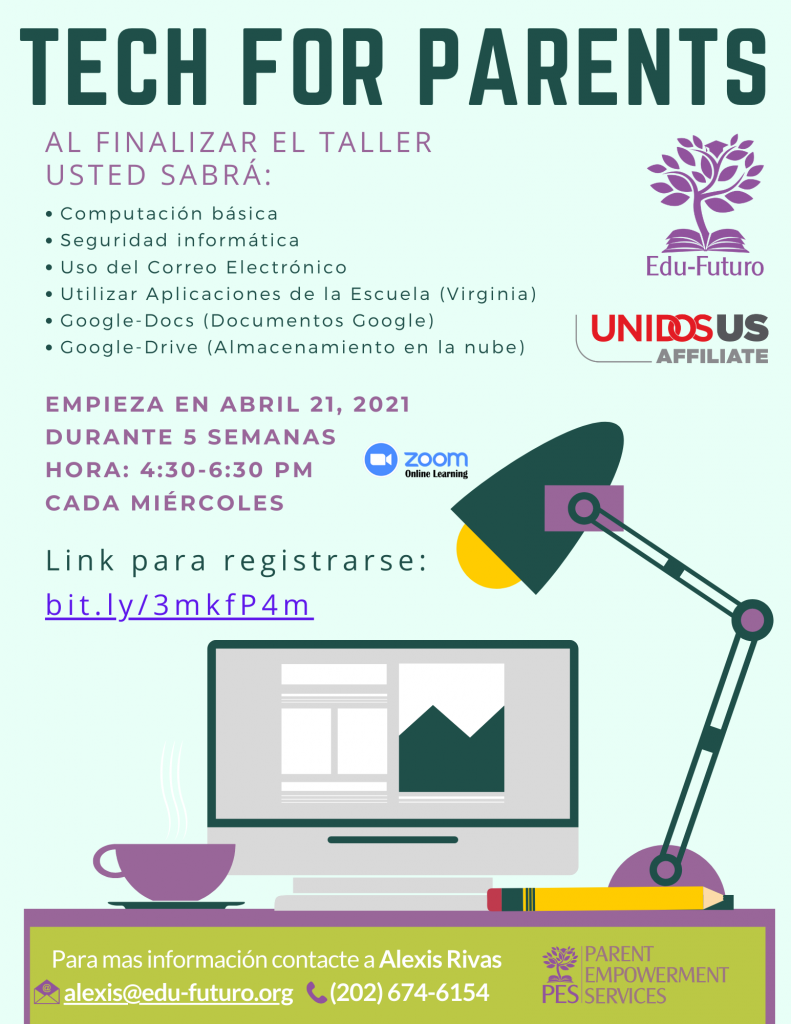 Edu-Futuro
You Can Be A Part Of Our Team
We are always looking to expand our team of volunteers. We search out dedicated people that want to make an impact in our community and the world.. If you are interested in volunteering, click the Volunteer Now button below.
Your Donation Will Help Those In Need