En Edu-Futuro, trabajamos arduamente para brindar programación de calidad a la comunidad, nos cuidamos como familia, nos valoramos y nos respetamos, y disfrutamos de la compañía de los demás mientras sabemos que nuestros clientes reciben servicios de un equipo.
Edu-Futuro siempre está buscando personas apasionadas, comprometidas con el servicio a la comunidad inmigrante.
Nuestras posiciones abiertas se enumeran a continuación.
AmeriCorps is the Corporation for National and Community Service in the United States. With a network of service programs, AmeriCorps offers the opportunity for individuals of all ages and backgrounds to serve and meet community needs. Each year, 75,000 people of all ages and backgrounds participate in a year of service at a placement site. AmeriCorps members address the most critical problems in the areas of education, economic opportunity, veteran and military family services, health, the environment, and disaster services. In exchange for a specified term of service, AmeriCorps members earn a living allowance as well as an educational award to pay back qualified student loans or to finance college, graduate school or vocational training.  To learn more about this federal program, you can visit: CNS.gov
Edu-Futuro has been a host site for AmeriCorps members since 2009, through grants managed by the state of Virginia (VirginiaService.virginia.gov) and has worked in different partnerships to bring AmeriCorps members to serve our Northern Virginia community. Currently, Edu-Futuro is partnering with We Are CASA Virginia, in a project called Moving Forward!
Members of the Moving Forward! AmeriCorps program serve at Edu-Futuro by facilitating leadership and college readiness workshops, and mentoring middle and high school students, as well as providing meaningful programs for their parents. Edu-Futuro builds partnerships with local school systems and other non-profit organizations to provide college readiness skills and career preparation to the immigrant families in our community. Since 2011, the program has empowered over 1500 K-12 students and parents from immigrant families in leadership training, college preparation, Spanish language instruction, and Robotics.
Edu-Futuro has engaged more than 20 members who combined have earned more than $100,000 in Education Awards. More than 70% of our AmeriCorps members are currently enrolled in post-secondary education or employed in full-time careers earning an average annual salary of $50,000 or more! You can read what some of our past and current AmeriCorps members have to say about their experience with Edu-Futuro.
Únete a nosotros. ¡Sea voluntario!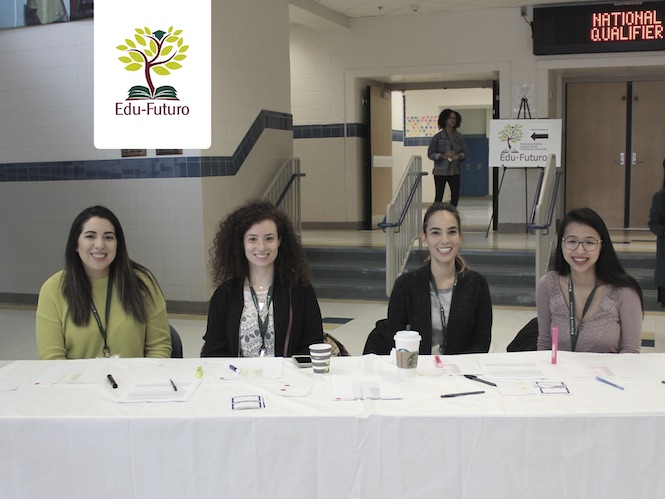 Edu-Futuro ofrece una variedad de oportunidades para ser voluntario en sus programas. Si le apasiona retribuir a la comunidad y está interesado en trabajar con niños de todas las edades, es posible que encuentre una oportunidad de voluntariado que lo atraiga en nuestra organización.
Tenga en cuenta que todas las invitaciones para ser voluntario en Edu-Futuro dependen de los resultados claros de una búsqueda en los registros estatales y nacionales de delincuentes sexuales. No se ofrecerá un puesto de voluntario a un solicitante que aparezca en dicho registro.
Además, quienes soliciten servir como mentores en el condado de Fairfax (es decir, en los sitios de Fairfax, Falls Church o Springfield) deben someterse a una verificación de antecedentes administrada por FCPS, que incluye toma de huellas digitales en FCPS Gatehouse Administration Center I (8115 Gatehouse Road, Falls Church , VA 22042). Al completar la solicitud de mentor, se enviará más información sobre la verificación de antecedentes de FCPS, incluidos los formularios requeridos.
Su Donación ayuda a estudiantes inmigrantes y a sus familias