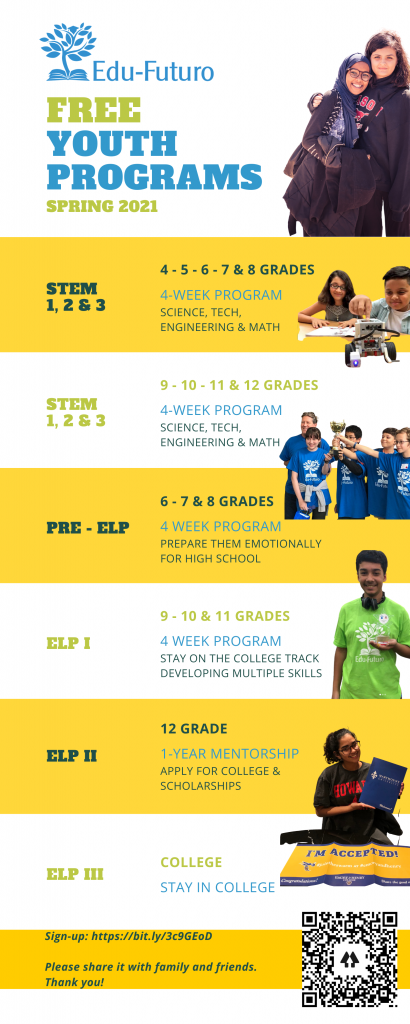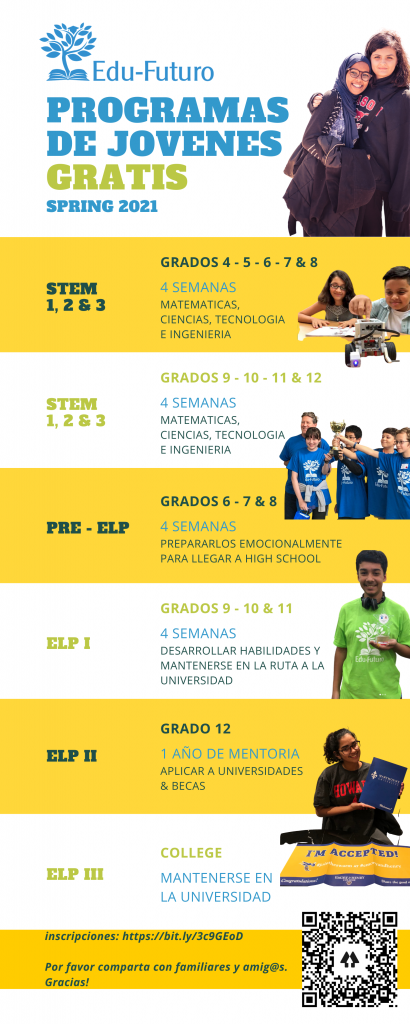 Why is STEM Education So Important? STEM stands for science, technology, engineering, and mathematics. STEM education creates critical thinkers, increases science literacy, and empowers the next generation of innovators and inventors. STEM professionals have access to higher income, which means better-paying jobs. Science, technology, engineering, and mathematics employees play an essential role in the sustained stability of the economy.
Science and technology surround us. Everywhere we look, we can find STEM in every aspect of our lives. Engineering is in the designs of roads and bridges, but it needs to address today's global weather challenges. Mathematics is in every profession and in every activity we do. STEM gives students opportunities to explore STEM-related skills, which will allow students to develop interest and passion for it and hopefully pursue a job in a STEM field.
Edu-Futuro has a STEM-based curriculum with real-life situations to help the student learn quickly and efficiently. Our program sets the scenario for minds-on and hands-on lessons for the students starting in upper elementary and all the way into junior year.
This is the 21st century, and it is no secret that scientific and technological innovations have become increasingly important as we face the benefits and challenges of both globalization and a knowledge-based economy. "To succeed in this new information-based and highly technological society, students need to develop their capabilities in STEM to levels much beyond what was considered acceptable in the past" as stated by the National Science Foundation.
Our STEM program engages students through a variety of subject areas such as Biology, Coding, Chemistry, Physics, Engineering, Technology, and so much more. Workshops range in difficulty and students from 4th-11th grades are invited to join during the fall, the spring, and the summer!
We offer 12 virtual workshops over a 6 week period. Workshops include "Coding a Peanut Butter and Jelly Sandwich", "Video Gaming, by Me", and "Designing your own 3D Soda Can". In addition, the STEM program has several competitions based on these workshops where students work with their Crews and Mentors to complete and pitch a designer product to put their new skills into practice and win prizes. Students have the opportunity to interact with their peers in small teams as well as with a STEM mentor. This enables students to create new friendships in their areas of interest as well as career-related connections.
STEM students will have the opportunity to learn and practice SeeSaw, an online learning tool, which many students are already using in school.
As one of our STEM professional guest speakers stated, "The most important thing you can do for a child interested in STEM is support them, I cannot emphasize that enough."
Find the Fall 2020 Timelines below. For more information please email us at leaders@edu-futuro.org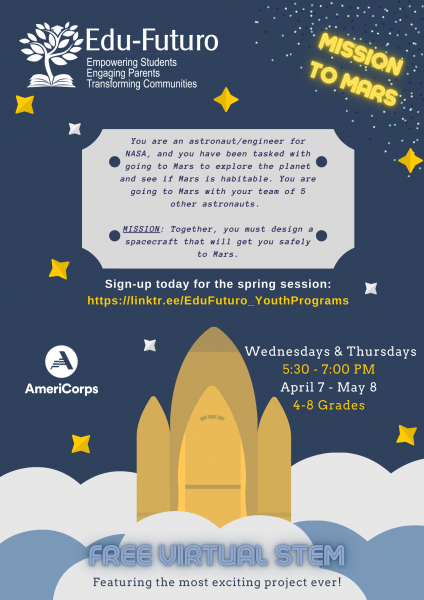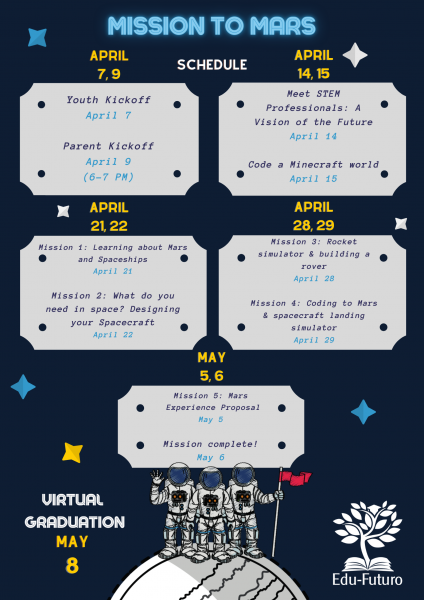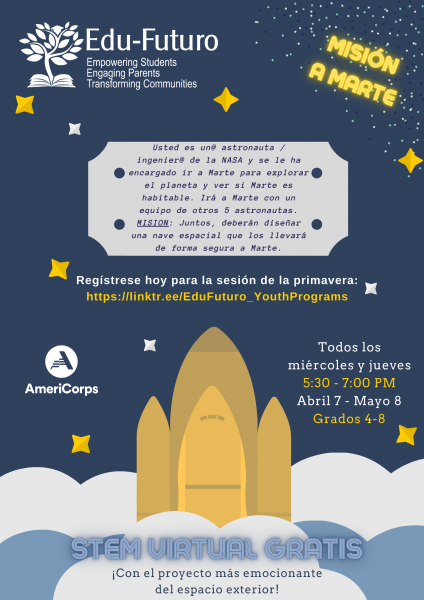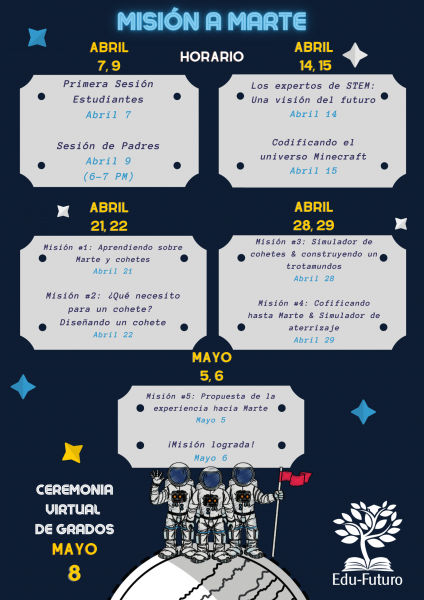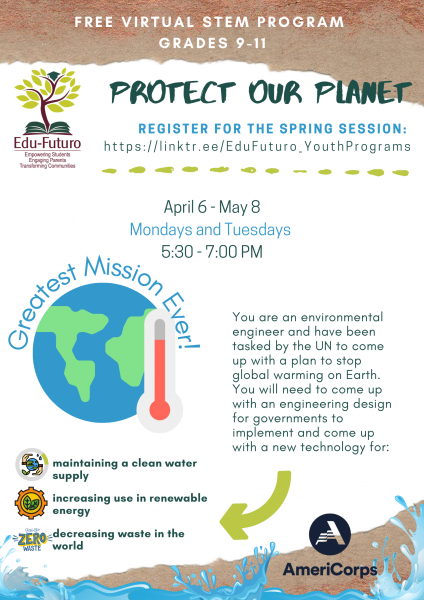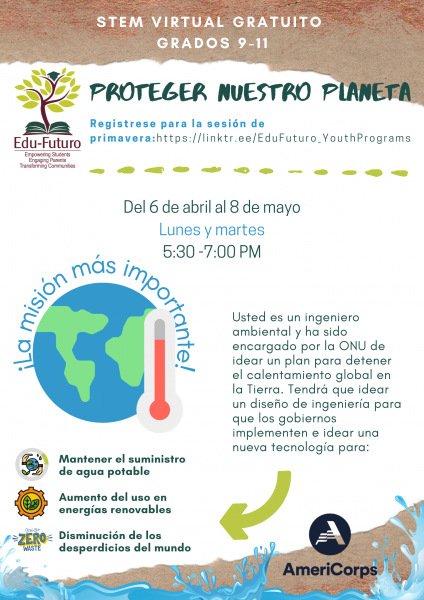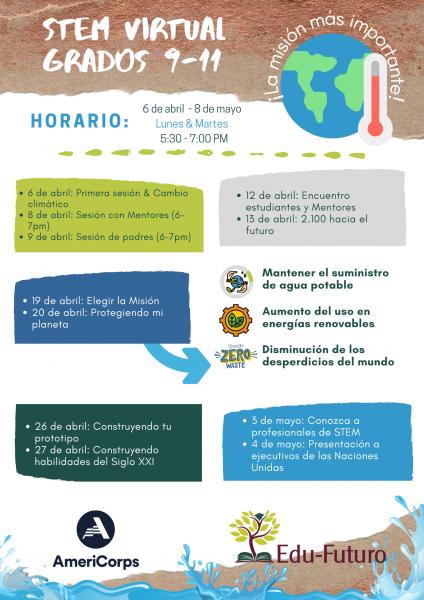 The Robotics Club engages middle school Latino and immigrant youth in hands-on STEM enrichment, teaching middle school students to design, construct, and program robots to fuel their interests in STEM professions. In the longer-term, the Robotics Club is the first stage of an innovative "pipeline" approach to supporting students' college & career readiness. The high-tech nature of the program attracts students during the middles school years, which research shows is a critical time to develop and retain STEM confidence.
Our STEM-focused ELP Robotics Club is offered for free to youth in grades 6-8, and after the first year in the program, students can choose to return for a second year to participate in local and regional robotics competitions and work on developing more advanced skills. The curricula used by this program have been vetted by the Carnegie Mellon Robotics Academy and align with Common Core standards.
Students in year one meet twice weekly for 1.5 hours per session during the fall semester to work through the LEGO MINDSTORMS EV3 curriculum. In the Spring, students meet only once per week, and work on developing more advanced skills to prepare for our in-house competition at the end of the school year.
Students in year two use the fall semester to hone their skills and prepare for local and regional FIRST Lego League competitions in small teams of four to six, coached by a staff member or volunteer, to develop creative solutions to real-world problems. Previous challenges have included topics like re-imagining infrastructure projects to withstand natural disasters or designing robots to help people with physical disabilities perform everyday tasks. These competitions encourage students to blend technical skills with creative problem-solving, connecting classroom lessons with tangible, real life applications. In the Spring, students work in teams of two to practice engineering and coding skills using VEX IQ robots and curriculum.
This program has been suspended since March 2020, due to the Covid-19 disruption. In lieu of this program, Edu-Futuro is offering virtual STEM Programs and you can sign up by clicking on the Menu. If you need more information please email us at leaders@edu-futuro.org
What is Social Emotional Learning?
It is through Social Emotional Learning that we come in contact with who we are, what we are feeling, what to call those feelings we are experiencing, where to put them, and how to respond to them. It also helps us set and achieve goals, feel and exhibit empathy for others, establish and maintain positive relationships, and finally make responsible decisions. Social and emotional learning provides a foundation for safe and positive learning, and enhances students' ability to succeed in school, careers, and life.
Edu-Futuro's Pre-ELP Social Emotional Learning Program, provides significant experiences for the first two components of SEL: Self-awareness and self-management in a four-week virtual setting where students meet twice a week for a total of three hours with facilitators and mentors. Our four-week SEL Program launches in the spring and offers students from 5th-8th grades eight (8) virtual workshops. These workshops are designed to empower students' self-awareness and self-management, mindsets and belief systems, talents and skills, as well as goal management. A virtual graduation ceremony for students and parents will conclude the program.
The SEL Virtual Program's hands-on learning approach led by our Mentors will keep students engaged and motivated to learn. Throughout the four weeks, students will earn badges for demonstrating indicators of success, and each session concludes with a challenge of the week that enables students to apply SEL in real-life situations. In addition, a program materials packet will be mailed to each student and their parents. These materials offer an interactive learning opportunity with other students that build on their SEL achievements.
Self-awareness in our program means understanding one's own emotions, personal goals, and values, which includes acknowledging our strengths and limitations, developing positive mindsets, and possessing a well-grounded sense of trust, a sense of support and comfort around others as well as empathy. High levels of self-awareness demand the ability to recognize how thoughts, feelings, and actions are intertwined. Self-management, on the other hand, requires skills and attitudes that allow us to regulate our emotions and the behaviors that come with our feelings. This includes the ability to delay gratification, manage stress, control impulses, and stay engaged through our own personal journey in life in order to achieve personal and educational goals.
Why is Social Emotional Learning So Important?
In brief, social Emotional Learning is the process through which we can have a better understanding of our emotions and how to administer them.
Pre-ELP SEL curriculum teaches youth and their parents/guardians some strategies to display emotional intelligence and administer our actions in a healthy way. SEL are life-long skills that empower us to grow and be nurtured by support systems, creating balance in all areas of life. SEL participants perform better in school, their workplace, their homes, and communities.
Having the tools and the language to identify, express, and manage emotions is beneficial for people of all ages and life stages. Young people who participate in our SEL program set themselves up to achieve their short-term and long-term goals.
From our staff at Edu-Futuro, we are so excited to meet you and learn and grow with you!
If you need more information, please email us at leaders@edu-futuro.org.
Emerging Leaders Program Part I (ELP I)
Developing Leadership Skills Like a Pro!
Here at Edu-Futuro, we believe the students of today are the leaders of tomorrow. In this first track of the three-part Emerging Leaders Program (ELP), we provide students in grades 9-11 with a toolkit of integrative, interdisciplinary, and transferable skills and strategies to support them in their path towards becoming leaders of their own futures.
ELP I centers around the individual needs of each student. From the onset of the program, students brainstorm and design a unique roadmap for their professional and personal goals in the Vision for Life workshop. Additionally, students will see the college-to-job pipeline connection in our Journey to the Future workshop, where they will explore how their college plans connect with potential careers. Beyond professional development, students will also be able to identify community issues personally important to them and understand their potential role as changemakers in the Civic Engagement workshop. These, among several other workshops, will put students on track towards being well-rounded citizen-scholars of the world.
The most important knowledge students will receive will not be from the workshops themselves, but from the people in them. For the duration of the program, students will be assigned a mentor that will support students in their goals and facilitate small group discussions of 4-6 students in each workshop. Through this collaboration, students will not only be able to interact and exchange ideas with their ELP I peers, but they will interact with mentors who have significant careers, college, and life experience behind them.
For the upcoming winter and spring virtual sessions, the traditionally eight-week long program will be condensed into four weeks, with action-based workshops held twice a week. Each workshop was carefully designed to encourage both social-emotional learning (ex: interpersonal communication) and leadership skills (ex: Public Speaking.) The order of the workshops is intentional and will build on the skills learned in the previous workshop (ex: our resume and professional skills workshop directly precedes our career exploration workshop) to give students a logical, cumulative structure they will retain long-after they graduate from the program
Although students will learn about higher education and attend college tours during their time in ELP I, it is much more than a college-preparedness program; it is a journey towards self-discovery. We encourage you to apply, and let us be a part of your personal journey!
Please find the Timeline below.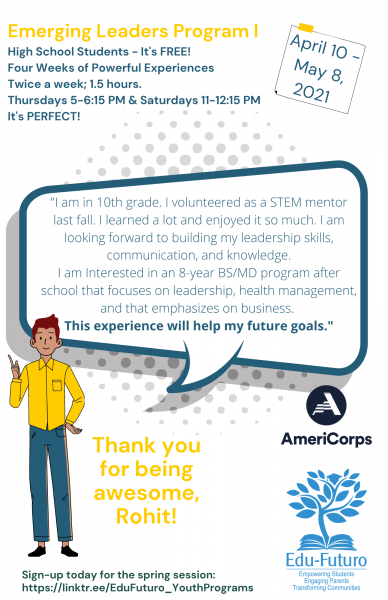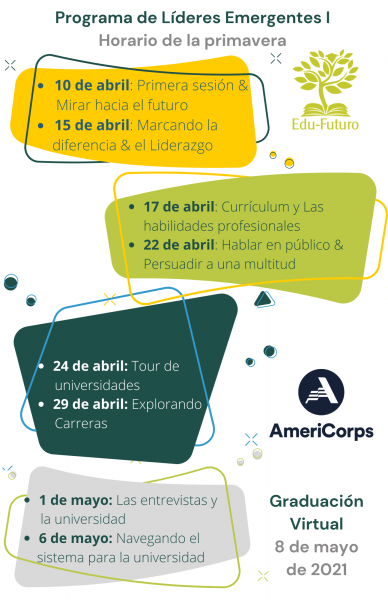 Emerging Leaders Program Part II (ELP II)
Rising high school seniors who complete ELP I are eligible for ELP II, a free year-long program supporting seniors during their college application process through weekly one-on-one coaching and mentoring services. Mentors provide feedback on college essays, ensure youth meet submission requirements, and help students apply for financial assistance. From September through January, students receive support with college applications and, from February through June, students receive support with financial aid and scholarship applications.
As part of this program, students are also required to engage in their community in Northern Virginia. Edu-Futuro delivers a civic engagement curriculum for the ELP II students, with the goal of teaching students about advocacy and service. Furthermore, in order to graduate from this program, students must complete at least 8 hours of community service.
During the ELP II Mentorship Program, Edu-Futuro offers monthly workshops focused on the students' preparation for college life. This series of workshops intend to reduce the anxiety about the transition from high school to college, make sure students know about the resources that are available to them in college, and provide practical skills that can be helpful for their personal and academic development.
Emerging Leaders Program Part III (ELP III)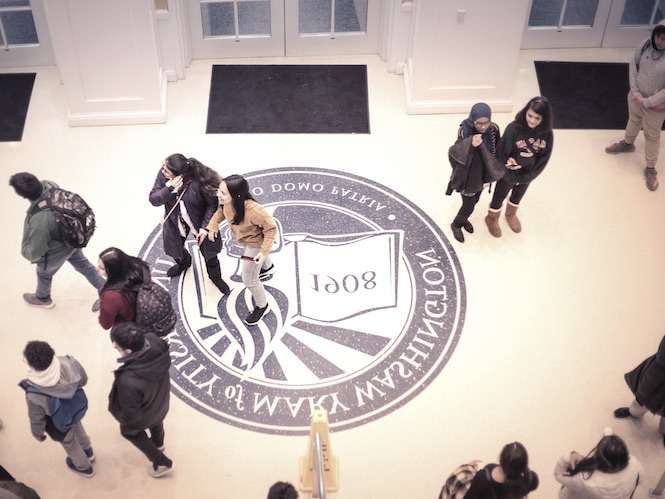 College Attendees who complete ELP II are eligible for ELP III, a free program supporting students during their first college year through ongoing mentorship, regular check-ins, and occasional workshops. ELP III Members are matched with Mentors who are familiar with the ins and outs of college and help support members throughout their transition period.
Mentors provide advice on internships and networking, career planning, and school resources, in addition to time management and study advice. Mentees will meet consistently throughout the year with Mentors to develop skills and connect with important resources. Mentees are also expected to participate in biannual keystone workshops focused on College Success.
Edu-Futuro is currently in the process of developing the ELP III Program set to officially launch in January 2021. Graduates of ELP II who are currently enrolled in their first year of College or University are encouraged to apply now!
Upcoming Program: NEW READing Program
Why Choose Edu-Futuro's READing Club?
At Edu-Futuro, we understand that reading is the pinnacle of school success. We have created a unique 9 week program where students between 5th & 8th grades can read along with other peers and Reading Coaches each week. Students will take 9 weeks of workshops, they will develop 9 different skills, and will take home 9 presents when they graduate.
Whether a child's a bookworm or a struggling reader, reading with others in our new READing Virtual Club each week is much more fun than reading solo. Plus, if READing is a skill, it can be learned.
Edu-Futuro's READing Club's mission is to advance children's reading and build on literacy to help young students improve their grades in all academic areas at school. Our READing Club is the one place where students develop a love for reading with others in very small teams, get the support they need, and have a trusted READing Coach to assist them with their progress as part of a professionally-developed ongoing Learning Enrichment Program.
Edu-Futuro's READing Club for young students in upper elementary and middle school offers the possibility of academic growth as well as a very important component of teaching students how to self-assess their progress mid-program, which in turn, allows them to gain confidence and become independent thinkers as they become readers that are aware of their own process. 
READing, The Most Precious Gift (Actually, Skill, The Most Precious Skill)
The pleasure of reading is directly connected to understanding what you read. No matter what the type of text/stories/books we like to read, true joy comes from being able to make connections to real-life situations and the world that surrounds us. Readers relate to characters or situations when they are able to react to texts by asking powerful questions, and when they can read between the lines. Readers can expand their imaginations and cross frontiers if they feel confident when presented with a new text. However, when reading becomes an impossible task, it stops being a stepping stone to succeed in life; it quickly becomes a weakness and a means of feeling at a loss. It's a simple formula: If a child reads better, they will understand better, and they will respond better in all subject areas.
What Are Some More Benefits of Reading With Others?
Supercharge a child's learning process through reading with others is the key to a child's active listening skills.

Studies have shown that reading with others accelerates a child's social development and, as a consequence, it increases their social understanding.

Reading with others allows for the experience of exchanging ideas.

It promotes more logical thinking and heightens concentration. 

It acclimates a child to new experiences and shows them

through hands-on experience

that reading is fun. 

When reading with others, children develop better communication and language skills. 

Reading with others is an amazing way for kids and Reading Coaches to bond with them and deepen their relationship by sharing wonderful texts each week.

Reading with others allows language learners to gain extra skills, vocabulary, and confidence because this program is specifically tailored for this purpose.
What if a child who struggles in school just needs to learn better and understand better? What if that child only needs to learn to read to establish connections or draw information from the text? What if reading better can make that child stronger in every subject area? Wouldn't that be a beautiful gift?
What Does an Internship at Edu-Futuro Look Like?
One thing that you will love about doing an internship is that you will be learning through real-world experiences, rather than through a book. The work you will do, the challenges you will encounter, the people you will meet, and the opportunities you will be given will invariably shape the way you perceive yourself, the impact you can cause in the world, and the way you see yourself and your future career.
We strive to provide interns with a positive work environment, necessary training, supervision, and recognition. In return, we expect you to honor your commitments to the organization, respect other staff members and interns, and perform your assigned duties to the best of your abilities.
Benefits of Doing an Internship: As an intern, you will have the opportunity to provide service in line with the organization's mission. You will have a chance to enhance your personal and professional skills as you gain valuable experience that will help you in the future while you sow seeds of professionalism, teamwork, respectability, and civility in a young person's life. Doing an internship will give you a sense of purpose, will help in building stronger communities, will develop a much-needed support system for youth, and will teach youth to be connected to trusted voices who care about their success.
Internship Expectations
*Program Orientation & Training
As an intern, your Placement Supervisor will provide you with an orientation and the necessary training required for your specific intern position.
*Supervision and Support
As an intern, you will have a clearly identified supervisor who will directly oversee your role within the organization. This supervisor will be available to you for consultation and assistance and will also be a point of contact throughout the application and orientation process and to support agency interns throughout their service.
*Record Maintenance & Intern Time
Keeping track of the time given by our interns is very important to us. The intern is required to document hours on an ongoing basis and report them to the Intern Supervisor on a weekly basis. After the intern completes a set of 30 hours, the timesheet will be submitted.
*Recognition
As an intern, you are an essential part of the operations at Edu-Futuro. Therefore, we believe it is very important to recognize the time and effort that interns put into service. Recognition opportunities will occur annually.
We welcome and encourage our students to apply to internship opportunities today!
Edu-Futuro
You Can Be A Part Of Our Team
We are always looking to expand our team of volunteers. We search out dedicated people that want to make an impact in our community and the world.. If you are interested in volunteering, click the Volunteer Now button below.
Your Donation Will Help Those In Need